The Maltese Falcon comes from the workshop of the influential Perini Navi. The boat was purchased by Pleon Ltd. and you can rent it for charter cruises. Famous people who have rented this boat for example include the actor Tom Hanks, Hugh Jackman or the co-founder of Google Larry Page. 
Luxury from the famous Tuzla shipbuilding yard
The bare hull of this giant yacht was built in 1989 -1990 according to a design by Perini Navi in the then new shipbuilding yard in Tuzla, Istanbul. However, as a result of the Gulf War it was unable to find a buyer, until Tom Perkins, a passionate yachtsman and future owner of the largest yacht in the world, appeared on the scene. In 2001, he employed the Dutch yacht designers Dykstra & Partners, who designed a 3-mast square rig for the project.
Revolutionary "DynaRing" control system
The yacht has three huge rotating masts, each of which supports 5 sails and is fitted with 2 Deutz engines with a joint output of 3,600 hp. It has a top speed of more than 20 knots (37 km/hour).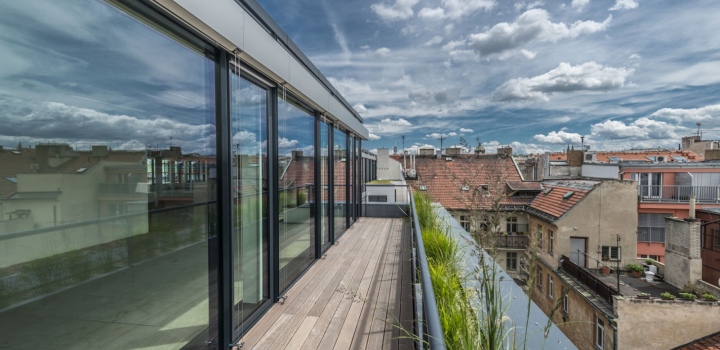 Kanceláře k pronájmu, Praha 1 - 387m2, Praha 1
Show property
The yacht is easy to control and is equipped with a sophisticated computer system which detects detailed parameters such as wind speed and automatically displays key data.
True luxury over an area of 2,400 m²
The yacht's 88 metres in length are dedicated to fun, dining and sunbathing. The yacht carries 12 guests in 6 cabins designed in the utmost luxury. A 16-man crew looks after the passengers.
You will find three decks on this unique yacht, linked by a spiral staircase surrounding the main mast. Natural light flows in from the upper deck to the lower ones via transparent floors. The main deck houses a large area with a lounge, extensive aft cockpit, 2 studios and an impressive dining room. For sleeping, there are five cabins on the lower deck and one on the upper deck with its own sunbathing area.
The undersea kingdom and water skis
If you find yourself getting bored on this luxury yacht, you can spend your time having fun. A submarine is available, thanks to which you can admire the beauty of the undersea kingdom. For active individuals, the option is available here of using two tenders with water skis or four sailing boats.
A week's rental of the Maltese Falcon, a truly unique yacht, will set you back more than EUR 400,000, the equivalent of just under CZK 11 million.
Video
View photo gallery
Two Marina Plaza
Goat Island
Newport RI 02840
USA