I am your guide to the real estate jungle and I will give you a few tips on what to look for when buying a house. When we decide to buy a property, it usually means that a major change is about to happen in our lives. It can be a wedding or a divorce, a new addition in the family or in our investment portfolio. Whatever the case, we always try to make the best choice.
Moving straight away, or is it better to wait?
The real estate market offers a lot of interesting opportunities to buy your dream home. You'll find there both properties that are ready to be moved into and projects that will be completed in one to two years. All depends on if you are in a hurry. If you are expecting a new baby in the family or need to move due to urgent circumstances, choose a property that is already complete.
On the other hand, if you can afford to wait and would like to purchase an apartment in a new development project, which has yet to be built, you have the possibility of a greater choice, client changes and more interesting prices.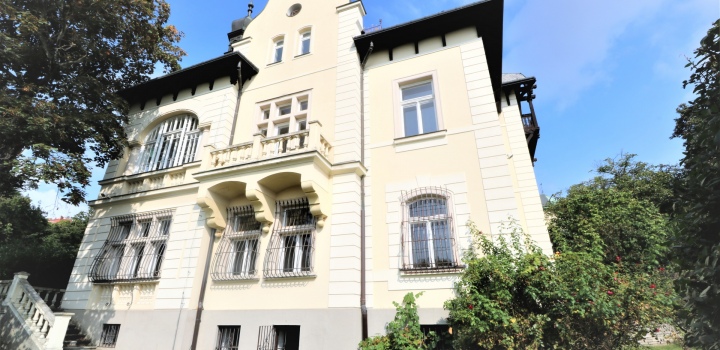 Luxusní prvorepubliková vila na prodej v Praze,
Show property
If you decided to go for it, you should check the following:
Does the property already have zoning or, ideally, a building permit?
Don't forget to ask which bank provides the financing and check at the land registry office, if it already has apledge.
Bank financing is an assurance that the project has been risk approved and meets all financing requirements.
Are you a fan of ready to move or Shell&Core?
Are you a big fan of design and architecture and would like to play a part in the creation of your home, or would you prefer to leave everything in the hands of a professional designer, simply take a suitcase and move in?
Shell&Core (properties before completion) have their pros and cons. If you choose to buy a completed apartment, all you can influence is the interior design. In case you are buying Shell&core, you can change the positions of the partitions, the dimensions of the room, and also choose the standards of finishing (floors, plaster, tiles).
Please note that major adjustments may require changes to the building permit. There's a catch in buying shell & core - you might not be the only buyer in the building that bought an unfinished apartment.
No one can guarantee you that once you've finished the interiors and moved into your cozy "love nest",  your neighbour Jeff won't return from vacation and start renovating his apartment. And let's not even mention the condition of shared areas that will have to be renovated each time a reconstruction of an apartment has been finished.
Why you will need acceptance certification
If you've decided to buy a shell&core property,  the first thing you should do before making a binding offer is request a building permit from the owner.
If you are buying such a property, you must obtain a permit for its use after the reconstruction has been finished – acceptance certification.
But don't worry. If you've built everything in accordance with the building permit and have a reliable builder and architect, you won't have any issues with getting the permit. Don't forget that in this case you have a unique opportunity to adjust the property to your requirements.
Pronájem luxusního bytu Praha, Praha 4
Show property
Let's talk about the building permit now…
You are buying what you see on the building permit, nothing less, nothing more. Don't forget to check the validity of the permit with the owner as well as the authorities - it could be expired. Don't expect that you will be able to add balconies, floors of extra bedrooms – all extras are at your own risk.
If you have neighbors (and you always have some), you must get their agreement with these changes, before taking the application to the authorities.
What if the property has legal issues?
All legal issues can be resolved. The problem can be a pledge of another bank, which is not a horrible issue. It can be an execution, a heritage or an under-age owner – all these are important factors that your real estate brokershould warn you about. Legal issues can be resolved, but it takes time.
Also, don't forget to check is the property has a permit for use. This, and acceptance certification, will help you find out if the property really has a residential function – an apartment, a villa, a family house. That way you won't accidentally but a studio instead of an apartment or a guest house instead of a villa.
Are you ready to sign the reservation contract?
In case you aren't buying the property from a developer (with developers, the deposits are often paid to the bankaccount of the project) but from an individual, don't let them talk you into paying the deposit directly to the property owner. It is much safer to use the bank account of a real estate agency, notary or lawyer. As there are many more risks waiting for you It's good to have a professional by your side, who will help you with buying a property.
Start the hunt for your dream property well armed:
Have a clear understanding, how much time you've got
With a preference to buy a finished property or shell&core 
When a property really catches your eye
Check the permit for use and acceptance certification
Make sure there are no legal issues
Ask for the building permit
And be careful about who you send the deposit to!
If you didn't find what you were looking for on the  market, don't worry. Don't be sad and don't make unnecessary compromises. Turn your eyes towards rental properties. Thanks to the swift real estate market dynamics, it's just a question of time before your dream property appears on the market.
In the next episode we will talk about real estate froads.