Elena Velez: Minimalism with maximal nudity
The luxurious show opened with the minimalist outfits of Elena Velez. This young designer was not afraid to show of the female body, and she sent her models onto the runway truly scantily dressed. Bare chests, sensual mini dresses, cut-outs and sheer fabrics were all on display during the show.
MARRKNULL stuck to the rules and… went down!
The designer duo operating under the MARRKNULL brand stuck to rather routine conventions and presented nothing new compared to the other designers. The denim outfit with cowboy boots and cotton-candy pink dress left us pretty cool.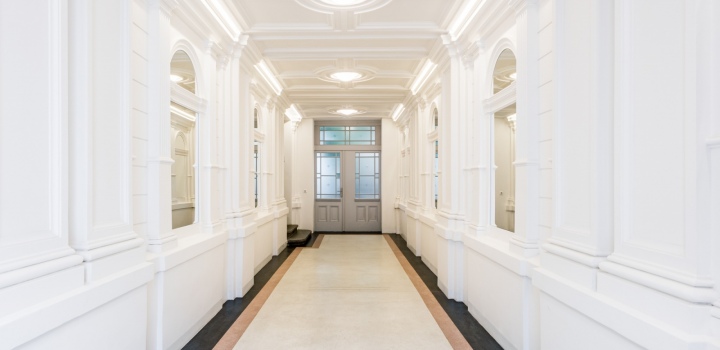 Byt Malá Strana Magenta 31m, Praha 1
Show property
SHUTING QIU: Variations on Hannibal Lecter
On the contrary, the SHUTING QIU show was reminiscent of a variation on the Richard McQuinn FW18 collection, the presentation of which this February couldn't be missed even by Queen Elizabeth II herself. SHUTING QIU works with a luxurious play of materials and applies elements of eclecticism. The extravagant look was complemented by masks that reminded us of the terrifying Hannibal Lecter. In terms of makeup, Richard McQuinn remains miles ahead.
WINDOWSEN: The high life
Apart from the shocking outfits which in many cases had little to do with luxury fashion, the Windowsen brand stood out with its footwear, which will get your head spinning. Remember the high platform shoes that it was impossible to walk in, but which pleased the eye so much in the Nineties? Start training, because they're making a comeback!
Rapper turned model. Lil Kim shone at the VFILES show.
For the finale, the runway hosted a luxurious collection by the VFILES brand, created by designer Paula Cupo and starring American rapper Lil Kim.
Martina Šmalclová