Nowadays you can collect all sorts of things - stamps, cars, beer mats or for example dolls. And not just any! Now in Prague there was held, for the fifth consecutive year, an exhibition of art dolls, Doll Prague 2018, where one of the main stars was also the American artist, E. J. Taylor, who became famous by having decorated the shopping window of the famous store of Tiffany´s in New York on 5th Avenue by the end of the 1970s. The entire storefront display was full of dolls… Thanks to this idea the then unknown young man became famous and began to sell his work. Nowadays there are waiting lists for his products! His creations are sold for hundreds of thousands and he cannot keep up with the demand. He likes to come to Prague, not only because it is a delightful place, but because of the clever Czech hands. To inquisitive Czechs minds Taylor hands over his life experience in the field of production of dolls and he has made some time for an inspirational interview with Luxury Prague Life.
Video
You have mentioned that you came to see Prague for the first time a decade ago.
When I was twelve, perhaps fourteen, I saw an article in a magazine - at that time it was probably the most important magazine in America; it no longer exists. And on the front cover there were eight photographs from an animated film produced here in Prague, by a very well-known illustrator and painter, Jiří Trnka. I thought that that was the most beautiful thing I have ever seen and I wanted to know how it is done. So I associated these beautiful images with Prague. But after that it still took many years before I came here. When I first came to Europe, I moved to London, Paris and so on, until I finally told myself ten years ago that I will go to Prague. Then, when I walked across the Charles Bridge, I told myself: "This is the place where I want to be!"
But you still have never lived here?
No, never.
Do you think that Prague would then loose its magic?
Perhaps, I do not know. I had lived in London within the theatrical community, where there was plenty of actors and artists, I worked in the theatre, then I lived in Germany. When I come here two weeks ago, I knew that that journey was very important. I cannot explain it. I did not know how and what exactly, but I knew that something beautiful will happen. And it did. The people that I taught here were incredible and eager to learn.
Luxusní byt na prodej Praha 8 - 113m, Praha 8
Show property
I wanted to come back here and have a reason for doing so. So I can come back now, perhaps in six months´ time, we shall see. When here in central and eastern Europe I talk to students, they understand what I am doing. For artists it is very difficult when people are not listening, cannot see, cannot hear. Then the artists are invisible. Here the people listen, see, hear and ask for advice.
From which part of the United States do you come from?
I was born in the north-west part of the Pacific, so near Washington and Oregon.
I have read that you come from a farming family. How did someone who looked after animals became such an artist?
We were not only farmers but also fishermen. We had cows, and when i was a kid I used to milk them. We also had horses and sheep, it was beautiful when the lambs were born. I think that I had a very special childhood. But I used to ask myself why am I here? Why am I not in New York, London or Paris?
I think that if something is too easy, you don´t work hard enough to get on. People told me that it was brave to leave the hometown, to go to New York City and attend art school. I went to the best art school and I was surprised that they wanted me there.
You did not have any bursary?
I did not. My father was a fisherman, he gave me a lot of support and believed in me.
And he believed that you will be the best artist in the world?
He knew that I had something special. My father was very charismatic, he was great. I always knew that I have his support. We lived in a community, I wouldn´t say of farmers, but in a community of people, whose lives are very closely linked with nature, with animals and plants. We lived by a river and in summer we went to Alaska, to a remote island of Kodiak. We flew to the city of Anchorage and then by a small water aircraft to Kodiak. I sent my childhood on a fishing canoe and played with Red Indian children who lived there.
When I came back after four years, I started to go to school. My teacher was a teacher of arts that in our city could not find a job in the field of art, so for three years she taught small children. The first day of school she came in front of us, gave us paper and crayons and told us to draw what we did in the summer. So I drew Alaska, the fishing canoe, reindeer, bears…
You had seen bears?
Yes, they went to the stream behind our house. At the beginning of summer salmon came to spawn, so there were hundreds of fish. Bears dived there to catch them.
And what did your teacher say about the picture?
I told my students about it. She raised it above her head and said in front of everyone: "This is how you draw a tree, this is how you draw the clouds." I had no idea. Already in such an early age she was able to appreciate my gift. She told me: "You don´t know it yet, but you are an artist!"
And now just a few days ago here in Prague in a group of students there were two beginners who created an amazing work. I had to work with them more than with the others, but I kept going. One of them painted a great work and when she finished, I picked up her creation and said in front of everyone: "Look at it, it is original, very beautiful." She had no idea that she could do something like that. But when you tell someone that his work is good, it rises his self-esteem and he can achieve more. I know how important this is, and therefore I do it with my students.
Tell me how you first came to New York and about the story with Tiffany´s. How old were you actually?
Around twenty, I do not know exactly.
Because I keep imagining you as a young boy from a village, who comes for the first time to New York at twenty years of age and suddenly he is approached by Tiffany´s at 5. Avenue, the most expensive street in the city.
No, I approached them. I went to New York twice, the first time I was 19. In my youth I had good art teachers, but later on not any more. I knew that in this respect I have to take care of it myself and in one magazine there was an advertisement of art schools in Chicago, Los Angeles and New York. I found a school in New York City, called Art Students League, which is very famous. The best thing about it was that you did not need to submit any portfolio, nor any application, you just came. I was nineteen, I persuaded my family to allow me to leave. I found some accommodation, even though I wasn´t at that time too concerned with practical issues. Did I know that this was the right path to realise my dream? No, it was just instinct.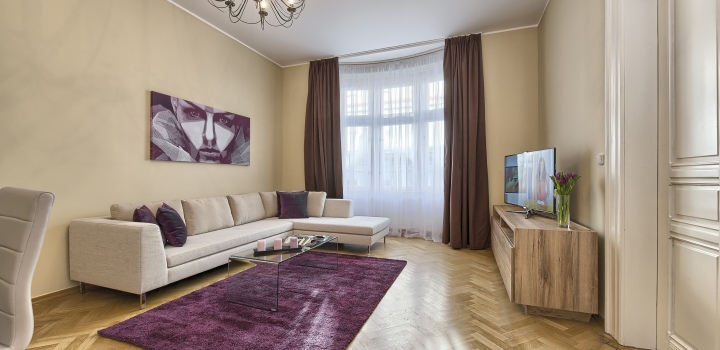 Luxusní byt na pronájem - Praha 1 - Josefov, Praha 1
Show property
The entire summer I went to see old movies, about which I did not even know that they exist, from those with Greta Garbo to musicals in Broadway. Throughout the summer I also went to school and painted and painted. From those creations which I then took with me back home, I then made a portfolio, with which I applied to Parsons School of Design. Although my mother did not entirely persuade me to come back, I knew that it is my dream and that I must do it. The school accepted me and for three years I studied "fashion design" there. One of my classmates was also Donna Karan who posed as a model for me when I trained painting. Although I don´t like fashion design; it is not a world in which I would feel comfortable, it gave me a lot for my subsequent work.
And what was the story with the Tiffany´s storefront?
First of all, it needs to be said that many of us have fallen in love with Audrey Hepburn. I myself fell in love with her after I have seen the Green Mansions, some other films and then Breakfast at Tiffany´s. I wanted to go to New York and live there. I was even inside Tiffany´s, but it is not exactly a nice place, because you must be really very wealthy to be able to buy anything there. However, from the outside it is fine. (laughter)
G. Moore was then the main window display artist, later on he became my very good friend. I knew that I had a great idea for them and that I simply want to dress their window. It took me a few weeks, but eventually I took the courage and called them. Moore had an assistant, who always took his phone calls, but on that day he answered the phone himself. I introduced myself and asked to whom I can speak to, and he said that I can speak with him. Then asked me what I´m doing on Tuesday at three o´clock.
You were lucky…
I was, and you know what? He looked at my work and told me that it was very good. Then he asked me how I would like to present the storefront, to come back with some designs. But I was young and naive, and I could not believe that my work interests them. I thought that he was just being polite. But I had a friend who was constantly persuading me to call them, until I finally did, otherwise I would never do it myself. When I did call, Moore again answered himself and asked where I was and why I took so long to come back. So I came back with my designs, which he liked. Straight away he took out his diary and put down a date. I think it was February and he put down the end of September.
I have tried on the internet to trace down which year it was, but I was unable to find it.
Perhaps in 1976, I am not sure. However, when the time came, I've done some preparation and I went there. I looked at the window and thought, I asked myself: "This is it, is this my dream?" At that point I realised how important it is to me that people see, perceive and understand my work. It is not about praise, but about the process of the work. That is what I like so much about it. That is why I am so happy here in Prague, working with students.
I that time I didn´t have a phone, I was so poor. But about ten days later, I received a letter. Harold Prince, a genius and king of Broadway, who had, together with Stephen Sondheim, written many musicals such as the Fiddler on the Roof, A Little Night Music and the like, saw my work at Tiffany´s, when he was passing by. He told his secretary to call Tiffany´s to find out a contact for the author. So they wrote me a letter and wanted to buy one figure. This was the first time that I have sold anything.
That´s funny, now you sell your works before they are made. I therefore want to ask, and you don´t have to answer, how much is one such figure worth?
A lot.
What do you do with all the money? You are a millionaire and you don´t even need to work anymore, isn´t that so?
That is not true. I am not a millionaire. (laughter)
You should be...
Thank you, but I am not. I would like to be, but I am not. I believe in one thing... A lot of artists´ primary interest is money, to earn it. Money is important, we must have a place to live, to eat. But for me the main thing is the work, it must be perfect. I always make sure that what i do is good. When the artist completes the work, it must speak for itself, independent of the author. You need to be sure that when the work is complete, it has its own voice.
Mr Taylor, thank you very much for your time. I hope that your voice will be heard for a long time.
Fast confession:
What do you like most about Prague?
What I admire most about Prague is its beauty, beauty and within it also aesthetics. It contains charm.
Where do you feel most at home?
I lived in different places across the world. When I was a kid I learned that my ancestors came from Europe and it was then that I thought that I want to go back "home", back to Europe, where my roots are. When I´ve done so, I thought: "Yes, I belong here."
Explain what a doll means to you in one sentence.
It is difficult. In most languages that means a toy that is intended for playing. But these dolls are not toys, they are statues, figural statues.
Your life motto?
My life motto? Be kind, compassionate and share beauty and love with the world.
What advice would you give to someone who would like to become an artist?
Firstly, understand your dream, find your dream, because if you don´t have one, then you don´t have the path which you can follow either.
What was the reaction of Tiffany´s management when you first told them about your idea to display dolls?
Tiffany´s? Well, it was one man at the position of window display artist. We became friends and when I showed him my creation, he said: I love it, adore it, yes, we will do it. When we carried it out, he came to see me and told me: "Young man, I will tell you something, I know a good artist and an average one and you can achieve anything you want in your profession. The only person that could spoil it, is yourself."
What does the word luxury mean to you?
Luxury to me means comfort, where your comfort zone is, what you like eating, what you like surrounding yourself with, with what kind of friends do you feel comfortable. That is luxury.
What is your reason for getting up every morning?
When I´m working on some project and I am enthusiastic about it. I get up in order to be able to start again over and over. Last night I was very tired, so I had to go to sleep and this morning ... I go again.
Is there anything without which you cannot imagine your life?
People whom I love, my family, my studio, all my brushes and colours and clay, my sculptural utensils, without it I would die.
How long a time do I need to become an artist?
You cannot count it, to be an artist is a matter for the entire lifetime. It is a path from the beginning to the end, all your experience, your entire life.
Which film have you seen the last time?
The last film I cannot remember. One of my favourite films is Gladiator, I love Gladiators, even when people say that it is all very violent. I think that it is like a return using a time machine. When you take the Colosseum in Rome and you climb up and see the horizon of the entire city, I wonder what it was like. It had to be stunning.
Who do you think is the sexiest woman in the world?
My idea of what is sexy differs from the majority of people, majority of men. For me it is sexy to be gracious, sexy is to be compassionate, sexy is to help others. I love people who help others. For me that is the most important thing.
The best beer in the world?
I don´t drink beer, I don´t drink alcohol.
How many dolls do you have at home?
I have two on my desk, which have not been completed, and when they are, I already have collectors who are waiting for them, they want them. Luckily for me I am able to sell my work as soon as it is finished, that quickly.
What would you like to ask me?
Well, most people do not know about this type of art. This is complicated, you might call it a mere doll, now they call them art dolls. I think it is a figural sculpture and think how religion teaches us that we are created, that mankind is made in God´s image, in the same way I think that artists are creating, play the role of a small, small God. So, mankind creates, it is something sacred and I think that people feel it, when they see humanity in creation. So I hope that the creation will touch you and you will think: "I understand that this is a human life, feeling all the emotions."
Yes, exactly, for the first time when I saw it I liked it.
Great! That is good.
View photo gallery