Respect what you feel
Luxurious materials, perfectly fitting cuts and captivating color palette that you will love at first glance. The new Pietro Filipi collection is a pleasure to look at. A brand that has been on the market for nearly thirty years simply knows what people are craving and calling for – it's wearable fashion and that they do get. At the same time, the braand comes up with a new concept called "Respect what you feel," which offers a deep dive into one's soul.
"We at Pietro Filipi believe that fashion has a vital role in the future. The role of helping us find and express who we really are..."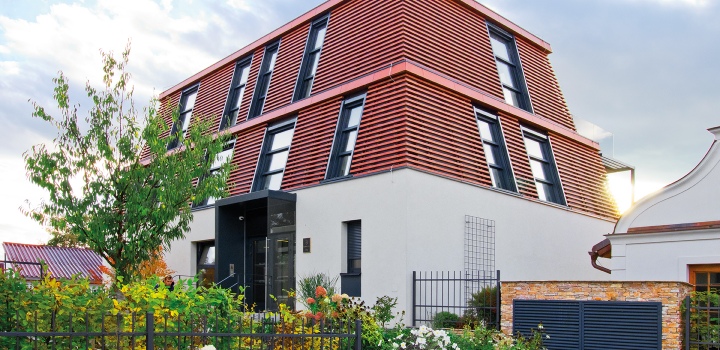 Penthouse Troja 309m, Praha 7
Show property
And we actually did find ourselves in the new collection. We also found several models that we need to get into our wardrobes. Autumn in gloomy colors? No way!
In the footsteps of Patrick Jane
On the other hand, the brand presented pieces that do not need to flash all possible colors, because they are stunning all by themselves! We loved the vests on the charismatic Patrick Jane in The Mentalist, and immediately fell for this piece by Pietro Filipi. Gentlemen, do you want women to fall for you all the time? Then grab yours. This is a powerful weapon!
This seemingly minimalist piece has also taken care of the wow effect and it is thought out to the last detail... or button? Black coat combined with a turtleneck, luxurious loafers and stylish trousers in a khaki shade is the perfect choice for any occasion.
In harmony with nature
Are you interested in how the contemporary collection came to be?
"Specifically with this collection I was inspired by converting feelings into the form of clouds, which constantly flow across the sky, changing colors and shape, but beneath them still remains something immutable, something that goes beyond us that we are an integral part of. This for me is the theme of the present time, to find our connection with nature and the planet that we are one with and that we need to take care of as well as about ourselves,"
creative director Monika Drápalová revealed.
Discounts are out
The luxury collection FW20-SS21 goes hand in hand with the brand's new vision which sees the future of retail primarily in sustainability. Therefore, some time ago, the brand decided, among other things, to end all discounts.
"The epidemic pointed out that in there is a huge amount of clothing in the world that is sold out unreasonably and too cheap. Collections are developed inefficiently and everything is unnecessarily fast. One buys the same thing over and over again with little change. Fashion trends are a world of their own, living a life that's kind of detached from the customer,"
the owner of the brand Michal Mička was heard.
Pietro Filipi deserves a thumbs up from us this year. After the fierce fashion creations we've seen on MBPFW in recent days, these elegant pieces are a ready-made balm for the soul!
More models from the collection FW20-SS21 can be found in the gallery at the end of the article.
Martina Šmalclová