Actress, presenter, blogger and recently above all traveller. Nikol Moravcová is not only a successful woman of many professions, but is proving more and more every day that she certainly does not belong to the category of dumb blondes which a lot of people classified her in at the start of her career.
People first noticed you as an actress, then you started to work as a presenter, you created the fashion blog Bloges Robes with a friend and now you have started travelling and started a new travel blog. Which of these professions is closest to your heart?
I feel most like a blogger as my full-time job. That is the biggest thing for me and I would prefer to be a travel blogger than a fashion blogger. I am already escaping from the clutches of that superficiality a little.
You have now started to travel. Why in fact is this? You have after all got a fully functioning fashion blog with Míša Štoudková and Kristýna Políček. 
Míša always gravitated towards fashion, Kristýna towards fitness and music and I was always more into that adrenaline stuff, sport and travel. I have in fact managed to do that on the whole up to the point where I came up with the idea for the travel blog.
So could we say that you are already starting to run away from fashion?
Yes, I am. After ten years, I have completely had enough of fashion. I don't even go to the fashion weeks. I prefer to go to the desert to Burning Man (a festival in the middle of the desert in Nevada – editor's note), where I can spend the week without any money, without the internet and without a car. I wear mad costumes there, but I feel so much better there. I don't really wear makeup anymore in general. I admit that I don't even wear heels much anymore. People on Instagram also prefer to see photos of me paragliding or skating than of me all dolled up on the red carpet.
Luxusní penthouse s terasou na prodej - Praha, Praha 1
Show property
Do you get the feeling that you are living those people's dreams? Because a lot of them would not be able to get to the places you do.
That is an interesting question. I think that I am able to motivate people and they can also motivate me. And I don't think they are jealous of me. They only see that they can also achieve the goals I have achieved. I have always been goal-orientated, but on the other hand I do have a lot of bad traits. I have never been careful, I am not very punctual, but I do have that sense of purpose. Although I don't have a specific goal which I am striving for like a lot of men have. They have a specific goal, they achieve it and move on to the next one.
But there must be some goal there.
Intuitively, I live that which enriches me in some way and that which passes on the message to people that they can do the same. I am not trying to make people look at me or for them, god forbid, to be jealous of me for any reason.
I would like to ask about that, because it really doesn't seem from your photos that you are bragging. A lot of people do for example do that, but in your case, you can see that you are just sharing your experience. 
Exactly. That is the path I have chosen. Even when we go to fashion week, we wear off-the-rack clothes because those people can then afford them too. Everything we present is intended for our age group. For all those girls who have similar interests.
And what about the negative reactions?
I do admit that a lot of people ask me whether it is not hypocritical that I do only positive things. But I think that everyone has so many worries that they don't need to see mine too. I do have some and I resolve them by myself or with my friends and family. I only sometimes share.
Is there any area where you are calculating?
Wow, where I could have been if I had been the calculating type! But I work with my friends. We never did it for the money. We never allowed ourselves to be bribed and I think that is why those people like us. Nobody can buy me - I am really touchy about that. I would rather not have anything to eat for a month, which did in fact happen to me once. But I would rather not have any money than be the face of something I don't agree with. People recognise that anyway because they are not stupid.
As far as travelling is concerned, who pays for it all?
Things are mostly paid for by sponsors which come about in a natural sort of way. But I paid for Burning Man for example, a trip which cost a lot of money, from the money I earned as a presenter. I don't need to earn, but above all to not spend. My new project could be based on the barter system. I would promote the hotels which I stay in and show people all the things that can be done there. A lot of people ask me about my opinion on the places I have visited. And I think that it is only fair if I for example say that I came to an agreement with Fly Dubai, that they would take us there and that this is company which offers a lot of interesting destinations.
I registered Burning Man thanks to you. What is that all about?
Mobile telephones and credit cards don't work there. It is in the dessert in Nevada and in my opinion, it is the best place on Earth. It looks like the moon there and you can even come across Hollywood actors. I met Cara Delevingne, Katy Perry and Leonardo DiCaprio there last year. There are no VIP zones there. You can really clear your head there.
You went without access to Wi-Fi?!? Did you not miss your mobile phone? You are after all used to being on your phone all the time, on Facebook and on Instagram.
I did have serious cold turkey! It was terrible, especially the first two days. I really missed the Internet, but other than that I did take photos with my phone all the time!
You really have done a lot of travelling. Is there anywhere you would still like to visit?
I have in fact been everywhere other than Greenland and Australia. I really would like to see that country. Australia would suit my lifestyle and I also really like surfers. And I could happily even live there.
You wouldn't mine leaving things behind here?
I mainly function online, so it would be possible. But I really love Prague! I have a great flat at Louis Vuiton (at Výtoň in Prague – editor's note).
You are an amazingly energetic person. You recharge people. Tell me, what recharges your batteries?
Those people recharge my batteries in return and I get a lot from sport, yoga and meditation. I have been a really hyperactive person since I was a child, so I need to calm down. And I like men! Call me Samantha Jones!
So men recharge your batteries too?
Well, not really. Men draw off my energy. I have been quite unlucky in love.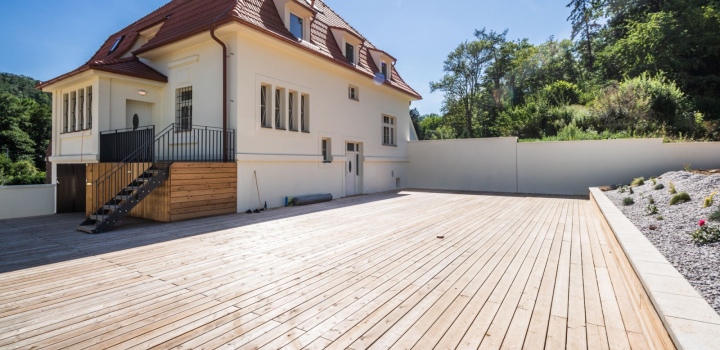 Luxusní vila na prodej v Šáreckém údolí, Praha 6
Show property
What if travelling starts to go so well that you have to give up Bloges Robes?
Well, I think that probably does await me. If I went to Australia, then I have no idea what would become of Bloges. We have already got things up and running there, we hold markets selling clothes, and now in November it will be my first step, when I get rid of everything. If it is not all sold to charity, then I will give it to a children's home. It will be a relief once I get rid of it all.
How is it possible that you all of a sudden don't need so much in your wardrobe?
Nobody in fact needs that much. The worst thing about my work is that I wear an item of clothing once and can't wear it again. It is terribly uneconomical and environmentally unsound.
You really are working on yourself!
I think that this was inevitable. I will be thirty in half a year's time and I am thinking about what sort of person I would like to be in the next decade.
During your time in the world of show business, I have the feeling that people have already managed to stop pigeonholing you as a "dumb superficial blonde". Have you yourself noticed that?
People either love me or hate me. It has been like that since nursery school and I have sort of gotten used to it. The people who are not supposed to be in my life are not in it. And those who should be there are. People really do go by their first impressions and the one I make probably is the very worst. People will either want to get to know me or not. During my time in the world of show business, I have experienced the very worst of hate and I can now only surprise people.
Fast confession:
Your favourite drink?
Coconut water.
Favourite food?
Guacamole.
Favourite perfume?
I am currently wearing Muse by Estée Lauder and I also like Dalia by Givenchy.
Do you live in the lap of luxury?
If flexibility as regards time counts as luxury, yes.
Favourite clothing brand
My favourite is Lindex.
Favourite means of transport?
City bike!
What are you most afraid of?
Living in a country where it snows all the time so I won't be able to ride my bike.
What do you not like about yourself?
Protruding ears and my lack of punctuality.
What is your favourite place in Prague?
"Louis Výtoň" where I live.
And in the world?
Big Island in Hawaii.
Role model in life?
Probably my parents. Above all my dad.
Characterise yourself in three words
Wild, young and free. Although I'm not sure about the young part.
Fashion or travel?
Travel.
Life-long dream?
To live in Australia.
Question by the interviewee to the editor:
Where would you go with me to spend a month?
With you, only to the moon!
Video