Ava Max: Sexy superhero
A doppleganger of singer Lady Gaga, Ava Max, arrived at MTV wearing a superhero outfit from Kaimin and it has to be said that she caused quite a bang with her choice. The blonde beauty was impossible to miss and she easily overshadowed everyone present!
Tana Mongeau and H.E.R. brought snakes to the red carpet!
The controversial youtuber Tana Mongeau, who's recently caused a huge turmoil with her fake wedding, donned a golden mini dress from Nicola Bacchilega and added a special touch to her look by wearing a snake around her neck, like Britney Spears in 2001!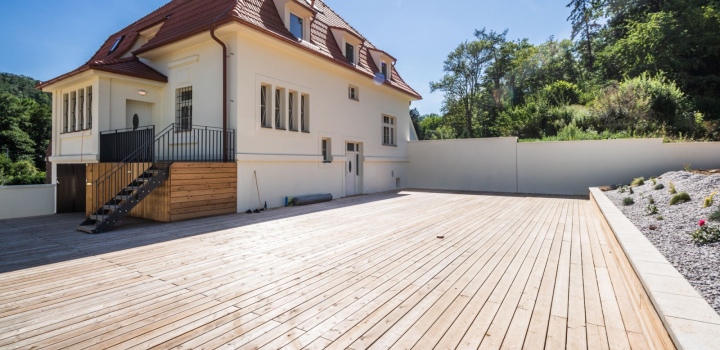 Luxusní vila na prodej v Šáreckém údolí, Praha 6
Show property
The singer H.E.R. had the same idea and brought a scaly "pet" to the red carpet, too. She looked stunning in a stylish khaki Valentino jumpsuit!
Taylor Swift, Keke Palmer and Queen Latifah in summer colors
The trio won us over at first glance with their luxurious models in fresh summer colors!
Taylor Swift wore a stylish Versace jacket and paired it with Christian Louboutin boots. The absence of distinctive jewelry is entirely appropriate in this case.
Keke Palmer bet on a yellow dress with lurex from the Kuwaiti designer Yousef Aljasmi and her robe, accentuated with David Yurman jewelry, really enchanted us. Beautiful, femminine, refined!
Queen Latifah, who donned an elegant orange Sergio Hudson suit, also had the dresscode down to the point. This is how it looks like when a woman knows what suits her figure!
A duel of black: Heidi Klum x Whitney Port
Both ladies bet on black and sequins, but one with more success than the other! We have no objections to Whitney Port's Balmain dress, Stuart Weitzman slippers and Edie Parker handbag. This is pure perfection from head to toes.
Although Heidi Klum arrived on MTV dressed in a similar spirit, we are not too excited about her Nedo dress. But the jewelry from Lorraine Schwartz and the Judith Leiber pochette save the overall look.
Bella and Gigi Hadid: Tailor-made for MTV!
Sisters Bella and Gigi Hadid bet on minimalist outfits in neutral colors. While Gigi was wearing a Tom Ford model, Bella donned a Charlotte Knowles dress and Gianvito Rossi pumps. These outfits seem to have been made for MTV!
Zara Larsson: In a flood of ruffles
Singer Zara Larsson was pretty much lost in all the ruffles on the red carpet. The dress from Giambattista Valli is not bad in itself, but it seems unnecessarily opulent for an appearance on MTV and the shade isn't flattering on the beautiful blonde singer either.
Marc Jacobs and Lenny Kravitz: Long live bell-bottoms
Designer Marc Jacobs arrived at MTV in a khaki suit from his own brand. Trendy or not, we're not big fans of shoulder pads and bell-bottoms...
Singer Lenny Kravitz was wearing more jewelry on MTV than most women! He complemented his denim look with a massive Natalia Fedner necklace, transporting us back to the nineties for a while with his retro jeans and pointy shoes.
Ice T and Coco Austin and Adriana Lima: Flop of the evening!
Adriana Lima's look is a huge disappointment for us. She looked like she'd just climbed out of a swimming pool... The Sally LaPointe dress resembling a swimsuit with a wrap and Adriana's not very well executed wet hair look couldn't be saved even by chic Christian Louboutin sandals and luxury jewelry from the brand Chopard.
As usual, the duo Ice T and Coco Austin did not disappoint and joined the ranks of the worst-dressed stars of the evening. Well, this is a clear evidence that money can't buy taste!
Martina Šmalclová