The Czech film and television academy (ČFTA) announced the nominees for the 26th year anniversary awards Český lev. The academics chose out of a total of 69 feature played, animated and documentary films, which were put into distribution in the year 2018. On Tuesday 22nd January, announcements of the nominees took place at a ceremony, which was hosted by the actor duo Klára Melíšková and Pavel Nový.
Melíšková will also take the main role in the ceremony theme, which is currently in preparation. To the question, to what extent will she be in the role, she answered:
'So far, it's still only in the preparation phase, and I myself will have to see, how far or much I will take part.'
She didn't disclose any more information, so we'll have to wait and see.
Video
As the director general of Česká televize Petr Dvořák expressed, the films of last year were made with themes associated with 8th year anniversaries (such as 1918, 1968)
Toman has a good chance to become the film of the year 2018
The most nominations, a total of 13, were won by the drama from director and producer Ondřej Trojan, Toman – with Jiří Macháček in the main role. The plot of the film takes us back into the years 1945-1948, and acquaints us with the head of the Czechoslovakian foreign unit Zdeněk Toman, who made a significant impact on the post-war developments in Czechoslovakia. He was the person, who had the task to procure the money, which would have been given to the communists had they won the elections.
In close second place with 10 nominations is the director debut film by Ondřej Havelka Hastrman (The Hastrman) , the adaption of the novel of Miloš Urban about the love of a water goblin for a girl called Katynka. The road movie about teenage boys Všechno Bude (Winter Flies) by director Olma Omerz, also received 10 nominations.
You will be able to find out the results and who will take the beautiful statues from the workshop of Rony Plesl home this year on the 23rd of March. The ceremony will be streamed live from Rudolfinum, and will be hosted by the famous Czech actor Václav Kopta.
You can find the complete list of nominations below: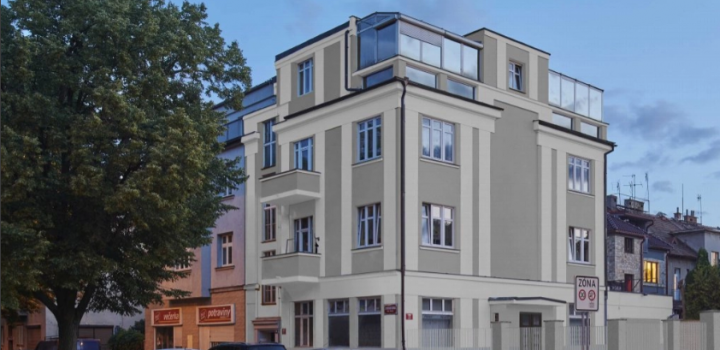 Vila na prodej Praha 6 - 502m, Praha 6
Show property
BEST FILM
Jan Palach – producers Viktor Schwarcz, Jan Schwarcz, Silvia Panáková, Erik Panák, Jan Maxa
Tlumočník (The Interpreter) – producer Rudolf Biermann, Martin Šulík, Bruno Wagner
Toman – producer Ondřej Trojan
Všechno bude (Winter Flies) – producer Jiří Konečný
Zlatý podraz (The Golden Betrayal)– producer Jaroslav Bouček
BEST DOCUMENTARY FILM
Až přijde válka (When the War Comes) – Directed by Jan Gebert - Producers Radovan Síbrt, Alžběta Karásková, Hanka Kastelicová, Tereza Polachová, Dana Budisavljević, Miljenka Čogelja

King Skate – directed by Šimon Šafránek - producer Kateřina Černá

Nic jako dřív (Nothing Like Before) – directed by Lukáš Kokeš, Klára Tasovská - producers
Pavla Janoušková Kubečková, Tomáš Hrubý, Tereza Polachová, Hanka Kastelicová

Planeta Česko (Wilder Than Wilderness) - directed by Marián Polák - producer Radim Procházka

Švéd v žuguliku (The Russian Job) - directed by Petr Horký - producer Martin Jůza
BEST DIRECTION
Hmyz (Insects) - Jan Švankmajer

Jan Palach - Robert Sedláček

Translator - Martin Šulík

Toman - Ondřej Trojan

Všechno bude (Winter Flies) - Olmo Omerzu
BEST FEMALE MAIN ROLE PERFORMANCE
Hastrman (The Hastrman) - Simona Zmrzlá

Chata na prodej (Bear With Us) - Ivana Chýlková

Chvilky (Moments) - Jenofa Bok

Jan Palach - Zuzana Bydzovska

Toman - Kateřina Winterová
BEST MALE MAIN ROLE PERFORMANCE
Hastrman (The Hastrman) - Karel Dobrý

(Hovory s TGM) Talks with TGM - Martin Huba

Jan Palach - Viktor Zavadil

Toman - Jiří Macháček

Všechno bude (Winter Flies) - Tomáš Mrvík
Prodej luxusního bytu, Karlín - 100m, Praha 8
Show property
THE BEST SUPPORTING FEMALE PERFORMANCE
Chata na prodej (Bear With Us) - Jana Synková
Tátova volha (Patrimony) - Tatiana Vilhelmová

Toman - Kristýna Boková

Všechno bude (Winter Flies) - Eliška Křenková

Všechno bude (Winter Flies) - Lenka Vlasáková
THE BEST SUPPORTING MALE PERFORMANCE
Hastrman (The Hastrman) - Jan Kolařík

Hmyz (Insects) - Jiří Lábus

Jan Palach - Jan Vondráček

Všechno bude (Winter Flies) - Jan František Uher

Zlatý podraz (The Golden Betrayal) - Jan Hartl
THE BEST SCRIPT
Chata na prodej (Bear With Us) - Tomáš Pavlíček, Lucie Bokšteflová

Jan Palach - Eva Kanturková

Tlumočník (The Interpreter) - Marek Leščák, Martin Šulík

Toman - Zdenka Simandlova, Ondřej Trojan

Všechno bude (Winter Flies) - Peter Pýcha
BEST CAMERA
Hastrman (The Hastrman) - Diviš Marek

Tlumočník (The Interpretor) - Martin Štrba
Toman - Tomáš Sysel
Všechno bude (Winter Flies) - Lukáš Milota

Zlatý podraz (The Golden Betrayal) - Vladimír Smutný
BEST EDITING
Hastrman (The Hastrman) - Jan Daňhel

Hmyz (Insects) - Jan Daňhel

Toman - Vladimír Barák

Všechno bude (Winter Flies) - Jana Vlčková

Zlatý podraz (The Golden Betrayal) - Anna Johnson Ryndová
BEST SOUND
Domestik (Domestique) - Jan Šulcek, Jakub Jurasek, David Titera
Hastrman (The Hastrman) - Jiří Melcher

Hmyz (Insects) - Ivo Špalj

Toman - Jiří Klenka

Zlatý podraz (The Golden Betrayal) - Marek Hart, Viktor Prášil
BEST MUSIC
Domestik (Domestique) - Cyril Kaplan, Jiří Konvalinka, Kryštof Kaplan
Hastrman (The Hastrman) - Petr Wajsar

Toman - Michal Novinski

Všechno bude (Winter Flies) - Monika Midriak, Shimon Holý, Paweł Szamburski

Zlatý podraz (The Golden Betrayal) - Jakub Kudláč
BEST FILM SCENOGRAPHY
Čertí brko (The Magic Quill) - Henrich Boráros, Robert Smolik
Hastrman (The Hastrman) - Petr Pištek

Hmyz (Insects) - Jan Švankmajer, Václav Švankmajer

Toman - Tomas Svoboda

Zlatý podraz (The Golden Betrayal) - Jiří Sternwald, Karel Vaňásek
BEST COSTUMES
Čertí brko (The Magic Quill) - Andrea Kralova

Hastrman (The Hastrman) - Eva Kotková

Jan Palach - Tomas Chlud

Toman - Katarina Strbova Bielikova

Zlatý podraz (The Golden Betrayal) - Simona Rybáková
BEST MASKS
Čertí brko (The Magic Quill) - Zdeněk Klika
Hastrman (The Hastrman) - Jana Červenková

Jan Palach - Jana Bílková

Toman - Jana Bílková

Zlatý podraz (The Golden Betrayal) - Jaroslav Šámal
THE MAGNESIA AWARD FOR THE BEST STUDENT FILM – non-statutory award
Cukr a sůl (Sugar and Salt) - Adam Martinec

Home Sleep Home - Adam Koloman Rybanský

Noc s agamou (Night of the Agama) - Tomas Janáček
Spolu sami (Apart) - Diana Cam Van Nguyen

sto dvacet osm tisíc (One hundred and twenty-eight thousand) - Ondřej Erban
BEST FILM POSTER - non-statutory award
Toman - Tomáš Zilvar, Lukáš Francl, Barbara Trojanová, Maxmilian Denkr - Award Winning Poster

Domestik (Domestique) - Ondřej Lipenský

Hmyz (Insects) - Jan Švankmajer

Chata na prodej (Bear With Us) - Jaroslav Mašek

King Skate - František Talíř
AWARD OF FILM FANS - non-staturory prize
Úsměvy smutných mužů ('The smiles of sad men') - directed by Daniel Svátek - award winning film
View photo gallery