Eliška Dospivová & Olena Mazuch: Both sparkled, but for very different prices!
The sparkly outfits worn by Eliška Dospivová and Olena Mazuch paired with sporty sneakers certainly the most controversial of the evening. While Eliška Dospivová, ex-wife of a billionaire, donned a gown worth 65 pounds, Olena Mazuch spent 500 on a very similar dress in a different colour. At first glance, the price difference was not apparent. What's more, Eliška Dospivová bet on cycling shorts, but she shouldn't have. This faux pas could not be saved even by her luxurious handbag and modern, sporty Balenciaga shoes. But we have to praise both ladies for their courage to stand out in a crowd.
Šarlota Frantinová, Natalie Kotková, Sara Sandeva: Stylish and tasteful at MBPFW
The outfits worn by Šarlota Frantinová and Natalie Kotková were fairly similar. They both showed up in outfits that don't get lost among the others. We praise both ladies for their great look. This is exactly what we want to see at Prague Fashion Week!
Sára Sandeva also surprised us pleasantly with her outfit. The young actress donned a herringbone suit and a white top fitted under the bust, which is equally appropriate for the stylish MBPFW event.
The beautiful Andrea Verešová didn't shine this time!
One always has great expectations for Andrea Verešová, but they were unfulfilled this time. The red dress by Michal Mark entirely suppresses the model's curves and the applique on the shoulders gave the impression that the luxurious gown was somehow unfinished.
The dress worn by Anna Linhartová was an equal disappointment. We appreciate the sweet pink in a sea of red, and it was obviously a high-quality piece, but the result is all wrong. And the pumps? We suggest that Anna Linhartová toss those out altogether.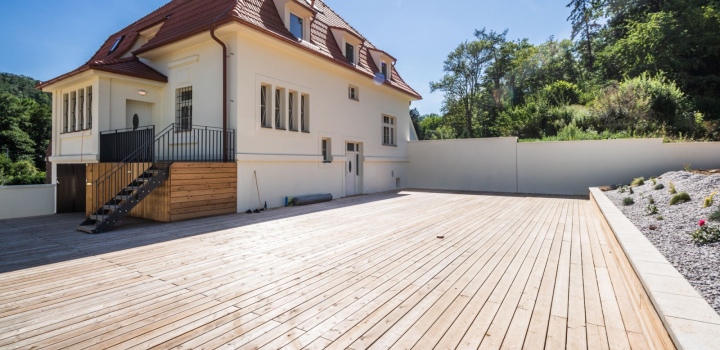 Luxusní vila na prodej v Šáreckém údolí, Praha 6
Show property
A perfect hit? Jitka Nováčková and Liběna Rochová!
The most luxurious outfits certainly included the Pietro Filipi dress worn by Jitka Nováčková and the gown worn by Liběna Rochová. Jitka Nováčková proved that black need not always be boring, if you choose the right tailoring and bright shoes, and Liběna Rochová brought out a piece that was perfect from A to Z. Superb!
Tamara Kotvalová, Beata Rajská: A breath of fresh air at the event
The friendly Tamara Kotvalová wore a black mini dress with silver sequins, which added some pleasant freshness to the special evening. We praise the gorgeous pumps and the unconventional clutch. With her attractive outfit, Beata Rajská reminded us that summer isn't over yet, choosing a combination of snowy white and flowers. The atypical nude and lilac pumps are an excellent accessory.
Hana Vagnerová let loose and lost the fairy look
At the Elite Model Look finale, Hana Vagnerová wore a stunning minimalist white gown, in which she looked like a fairy. But she took things up a notch at the MBPFW opening! The actress donned a Versace outfit in which she looked like anything but a fragile flower. We're not used to this kind of style with Hana, and give her thumbs up for her boldness.
The Langmannová, Bartošová and Kaira Hrachovcová trio neither offends nor delights.
While Linda Bartošová bet on a minimalistic black dress by Zuzana Kubíčková, Kateřina Kaira Hrachovcová and Renata Langmannová opted for elegant suits – also in black, naturally! We suggest that Kateřina replace the shoes and clutch with something else, and after that we'll be able to say that the outfits of all three ladies are neither offensive nor particularly delightful …
Martina Šmalclová