Japan constantly fascinates its visitors not only by its breath-taking nature, but also ultra-modern buildings, technology and creative ideas. One such idea is dining on-board. Tohoku Emotion is not here primarily to get you somewhere. But in addition to beautiful views you can also enjoy a delicious menu.
Video
Get to know Tóhoku
Tóhoku is an area at the largest Japanese island - Honshu. The most important industry here is tourism and when you get to know this resort, you will not be surprised. Tourist magnets are the cities of Hirosaki or Morioka, you will also be charmed by the beautiful islands in the bay of Matsushima, Lake Tazawa and Towada, dominant mountain of Bandai or nature´s beauties in national parks.
Tohoku Emotion is not an ordinary train
In this country you can be surprised by many things. Even the fact that instead of a restaurant, you go for a meal to a train. But it is not an ordinary train. You get on only if you wish to have a meal! In the first wagon there are 7 private coupés, the 2. wagon is an open kitchen and the third wagon serves as a luxurious dining room. The interior is luxuriously decorated by motifs of traditional crafts in the area of Tóhoku. 
Tohoku Emotion will take you on a round sightseeing trip from Hachinohe Station to Kuji Station between which there are three more stops. Almost the whole of the journey, of the same route there and back, leads along the east coast in the north of the island.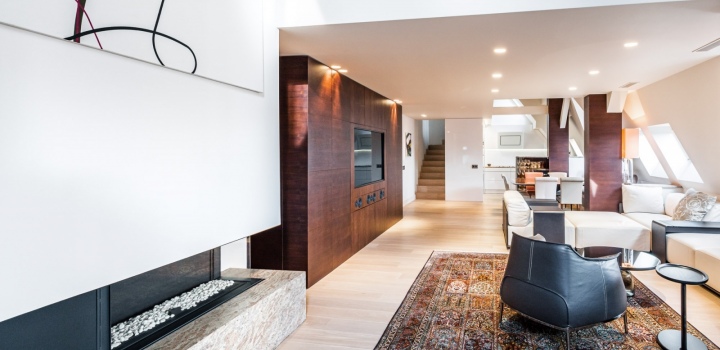 Penthouse s výhledem na Hrad na prodej - 288m, Praha 1
Show property
Each annual period there are new delicacies; every six months a new chef
You can enjoy here a luxury menu, changed four times a year, always depending on the season. This ensures that those who come here more often, will never be offered the same menu. The train restaurant changes its chef quite often - once every half a year. After start of the train, passengers can enjoy lunch courses on the way back there is a dessert buffet. Ingredients come exclusively from Tóhoku and the train offers perfect, constantly changing views. A Sunday lunch - what else to wish for?
View photo gallery