Kadadoo is an ecological private island in the Maldives in Lhaviani atoll. It is not easy to get to the island. If you come from the airport of the capital city of Malé, a special hydroplane of Kudadoo Maldives will be prepared for you. Welcome in the paradise of sustainability!
Video
What's does Kudadoo encompass? A surprising icon of it are solar panels!
When designing the private island of Kudadoo Maldives the company Yuji Yamazaki Architecture preferred combination of eco features and design elements. Architects incorporated solar panels into an impressive photovoltaic roof on the main building of the resort.. Thanks to the integrated solar panels, a system of renewable energy source of 320 kWp (kW), which generates sufficient power for the island of three hectares in area, the island does not require any other external sources. A luxurious idea!
The wooden structures also receive a great praise. They are built using sustainable timber resources from forest sites such as Indonesia, New Zealand and Canada.
All the boxes of luxury have been ticked
The spacious residence contains 15 of the most luxurious villas. There will also be ones that will exceed your expectations. Lovers of space are awaited by first-class houses with one bedroom, of 303 m² in size. Some of the villas with two bedrooms spread over 380 m². Each villa or house has its private terrace. A matter of course is a glass floor so that you can view the ocean world. There is no wonder that the resort became the best new luxury hotel in 2018.
 One night in the residence of the 310 m² costs approximately CZK 85,000.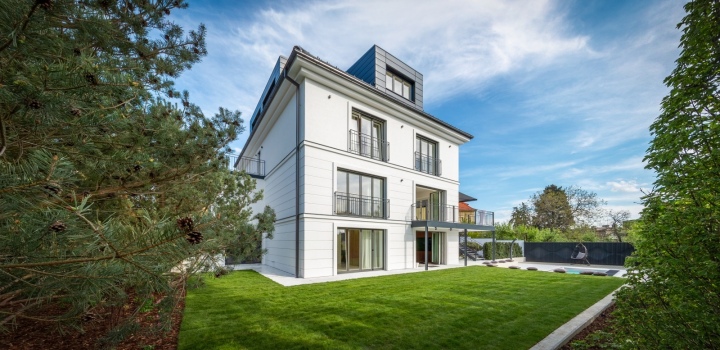 Luxusní vila na prodej Praha 6 - Hanspaulka, Praha 6
Show property
Further efforts of self-sufficient and environmentally sustainable islands
The company Shimizu seeks to promote the idea of floating mini-cities, Green Float, in the Pacific Ocean. They should look like artificial floating islands, which will, thanks to the latest green technologies, use all waste to generate energy.
But we can stay on in Europe. On the Danish island of Aro lies a solar-hot-water turbine power plant, occupying the area of almost 20,000 m² and there are also wind turbines. The island is energy-wise almost self-sufficient.
View photo gallery