Hartmut Sinkwitz, head of interior design for Mercedes-Benz vehicles was declared winner in the "Interior Designer of the Year" category. He created a design for the interior of the GLE, Smart Fortwo, but his win is in particular due to the interior of the new E-class, which is characterised by extremely comfortable seats, superb workmanship and interior innovations, represented for example by a steering wheel with touch-screen controls.
The luxury interior of the car offers everything needed to meet current demands of a modern way of life, these being communication, entertainment and work. Apart from the basic equipment, the Mercedes E-class offers a wide range of optional innovations.
What else can you for example find in the optional equipment?
You can unlock, lock or start your car with the aid of a digital key in your smartphone. This is accomplished via a NFC (Near Field Communication) service. You can also charge your smartphone wirelessly.
You can enjoy your drive thanks to the comfortable orthopaedic seats with an "Energising" massage function designed for both the driver and the passenger. You can choose from 8 massage programmes.
Subdued light fittings in the car create ambient lighting in the interior of your vehicle. Light fittings use LED technology and you have 64 colour shades at your disposal.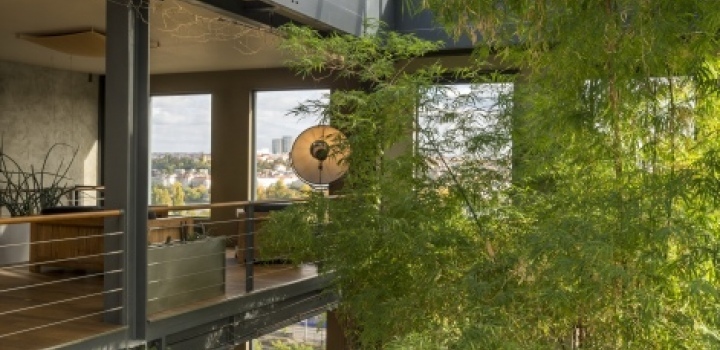 Loft s výhledem na Prahu 445m, Praha 5
Show property
A solution for the winter and for the summer
When the weather is cold, you can heat up the armrests and whole of the front and rear seats. In summer, you can protect yourself against the sun's rays. The set of sun protectors for the rear seats is made up of an electric blind for the rear window, manually operated blinds for the rear side windows and convenient sun visors for the driver and passenger.
The Mercedes-Benz E-class offers the full range of modern luxuries including an internet connection easily controlled from the steering wheel. What more could you possibly wish for when driving a luxury car? Surely only that you have a good trip.
Video
View photo gallery
Mercedes-Benz Praha - Chodov
Daimlerova 2296/2
149 00 Praha 4 - Chodov