If you're movie buffs, pay attention! Auctions of Hollywood costumes and masks were held in Los Angeles and England. And not just any. Among the things going up for auction were Darth Vader's priceless iconic helmet, the black and white dress worn by Dorothy in the movie Wizard of Oz, or the axe from The Shining.
The Dark Lord of the Sith rules!
The most expensive piece that got auctioned off was Darth Vader's helmet and mask from the movie Star Wars: Empire Strikes Back. An anonymous participant was willing to pay over a million US dollars for this movie marvel, which is around 23 million Czech crowns. The original estimated price was between 250 to 450 thousand US dollars. It's no wonder that the final price surprised everybody.
"Anything from the original Star Wars trilogy is extremely rare these days,"
said Brian Chanes, manager of the Profiles in History auction house.
The highest price for a piece of Star Wars memorabilia to date was paid at an auction in Beverly Hills, California in 2011. An unknown buyer paid a whopping 625,000 dollars, which is almost 15 million crowns, for a 35mm camera from 1977 that George Lucas used to film the first Star Wars movie.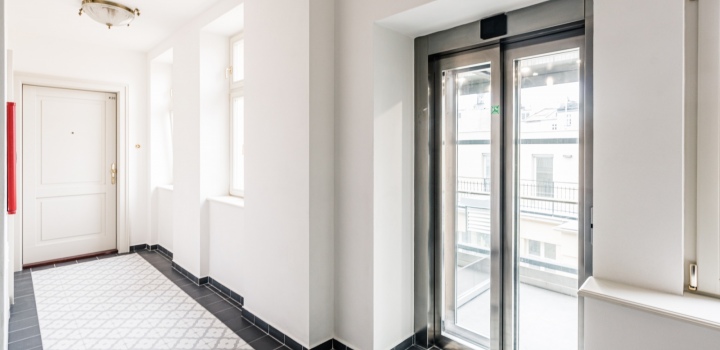 Byt na pronájem Nové Město - Praha 1 - 69m, Praha 1
Show property
A dress for visiting Oz
This year it's been exactly eighty years since the filming of the family picture Wizard of Oz, in which actress Judy Garland played the main character Dorothy Gale. The black and white dress that she wears in the "sepia world" - that is before she enters the colorful fantasy world of Oz, were auctioned off for 750 thousand dollars, which is just under 18 million Czech crowns.
Unlike the standard blue and white dress that Dorothy wears in Oz, this black and white one was designed and made only once. It is of major importance in film history specifically because of the famous transition into contrasting colors.
Here's...Johnny!
The possibly most famous axe in the history of cinema was auctioned off last week at the British Institute in London. This iconic tool was used by Jack Nicholson in the movie The Shining. It was sold for 170 thousand pounds, which is about 5 million Czech crowns - this price was four times higher than the originally estimated one. This horror thriller from 1980 was directed by Stanley Kubrick and was based on a book of the same name by Stephen King.
Anyway, however rich the guy who got himself that axe is, I definitely wouldn't be spending any winter holidays with him in any mountain hotel. Brr...
View photo gallery