As time goes by with Dior
The FW 19/20 is dominated by large and a little boring check, unflattering hats and beautiful A-line skirts of transparent fabrics, which we have however seen in countless previous Dior collections. We miss some original ideas, and that is a shame. The time has come to recall the last 5 years and choose a collection which would outdo this year´s one in all aspects! 
Video
Autumn-Winter 2014/2015: Colourful minimalism
The post of creative director is that of distinctive Raf Simons, who was unusually conservative in the designing of this collection. He presents a minimalistic play of colours, only exceptionally revived by some untraditional details, such as the lacing on the dresses.
Score of points: 5/10
Autumn-Winter 2015/2016: Bold patterns
A year later the collection already reflected Raf Simons´ wild side. It was dominated by bold patterns, applied by the creative designer to dresses, leggings, tops as well as overalls. While pieces such as a powder-pink coat or a burgundy-coloured dress is a luxurious fashion feat, the overalls as if cut out from a sci-fi movie leave you with a somewhat puzzled impression. 
Score of points: 5/10
Autumn-Winter 2016/2017: Black lipsticks, flowers, animals
There are some personnel shake-ups at the Dior fashion house. Raf Simons is replaced in his post by creative director Lucie Meier and Serge Ruffieux. Together they presented a show of black lipsticks, slick hairstyles and minimalist models, complemented by models of striking flower-themed and animal-print patterns. A good idea, but not so good its implementation. The collection looks tired, the models look ungainly.
Score of points: 4/10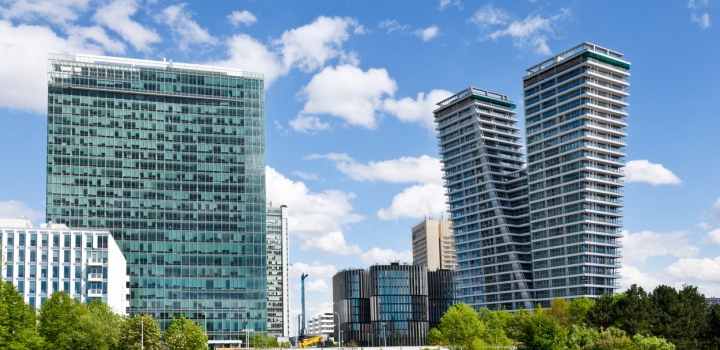 Luxusní byt na pronájem - V Tower 112, Praha 4
Show property
Autumn-Winter 2017/2018: In the style of elegance and femininity
A luxurious feat! The brand presents stylish and feminine models, chic berets and denim of untraditional processing and design. Who is behind it all? Maria Grazia Chiuri, who had been a few months before that appointed to the position of creative director of the fashion house, having also managed just shortly before that to present her legendary T-shirt ´We should all be feminists´.
Score of points: 10/10
Autumn-Winter 2018/2019: Luxurious patchwork and lush spring
Maria Grazia Chiuri feels at home in Dior and she probably cannot wait for some sunny days ahead. The luxurious autumn collection is dominated by bold shades, the patchwork method and playful flowers. This dazzling play of colours reminiscent of spring is flawless! We are awed by the talent of this Italian designer.
Score of points: 10/10
This collection by Dior wins 9 of 10 points due to the above criticisms by which we give the designer some room for improvement and influx of fresh ideas.
View photo gallery