Dynamiq – Live the luxury life The Dynamiq
Company resides in Monaco and endeavours to fulfil the dreams and requirements of customers purchasing new generation yachts. The most frequent requirements are efficiency, elegance and ease of control and maintenance. Dynamiq is the first company to create a number of full-aluminium super yachts. This new yacht category is called the Gran Turismo Transatlantic (GTT).
Video
What is hidden below the decks of this yacht?
The modern deluxe GTT 115 super yacht measures 35 metres and is fast mainly due to the fact that it is made from light aluminium. The yacht is powered by two Fortjes 5000 engines with an output of 1213 kW. The innovative Fischer Panda iSeries generators use variable speed technology, which enables adaptation of the engine speed depending on electric load and energy consumption. Variable speed generators have much cleaner emissions, lower fuel consumption and are more economic.
When the main engines are switched off the generators are supplied by two ultra-compact electrical motors with an output of 20 kW, which enable the yacht to achieve speeds of 6 knots when there is no wind for an unlimited period. The yacht will also contain hull lines from the Vripack Company. Architect Van Oossanen participated in the yacht project.
The partnership with the Porsche design studio was an excellent idea
The F.A. Porsche Studio is responsible for the deluxe exteriors. The GTT 115 contains elements by the Porsche automobile company in compliance with the futuristic concept of the Mision E vehicle. The yacht's exterior is available in the following colours: "Carrara White", "Rhodium Silver", "Chalk" or the special "Monte Carlo Blue". The interior has three or four cabins with Italian furniture designed by the Minotti Company. Brown and beige are the most distinctive colour tones.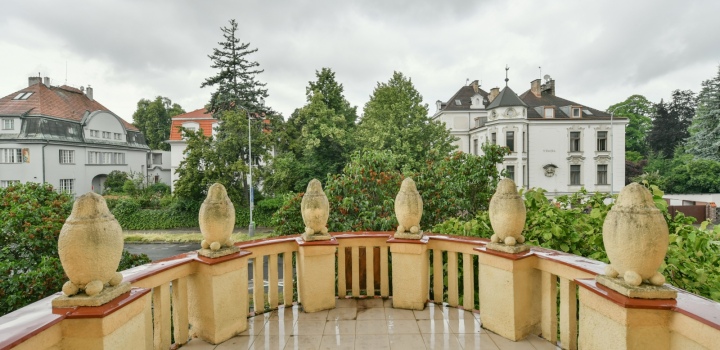 Luxusní vila na prodej na Praze 6-Bubeneč, Praha 6
Show property
A limited number. You know how it goes, first come...
Only 7 of these yachts will be manufactured. If you order this deluxe yacht you will see it within 15 months. But be careful, your family budget will be reduced by EUR 11.9 million. And that is just the beginning, or standard option.
Can you see yourself at the bow of this ship?
View photo gallery
Quai Louis II,
4th Floor, Yacht Club de Monaco,
98000 Monaco