If you'd decided to spend the weekend in Prague and were planning to visit the Smíchov embankment, you probably haven't left with an empty stomach. Visitors were greeted with a wide range of the best street food delicacies. At this year's Street Food Festival you could taste a range of the best Czech and foreign meals and find out what people eat on the island of Sri Lanka or in Africa.
What to eat first, that's the question!
The sunny weather only complimented the proper festival atmosphere and the mood to try refreshing ice creams, icy popsicles, fried donuts, delicate waffles, donuts of macarons. Not only sweets lovers got theirs here, though. The individual food stalls also offered various spicy dishes, hamburgers, or the Balkan specialty - spicy pljeskavica.
Flavors from all over the world managed to attract even more passersby from all around to Asian or Mediterranean dishes. The curious or brave could enjoy bug specials, but attention was paid also to keeping the visitors hydrated - you could choose whether to refresh yourself with ice cold cider, home-made lemonades or wine.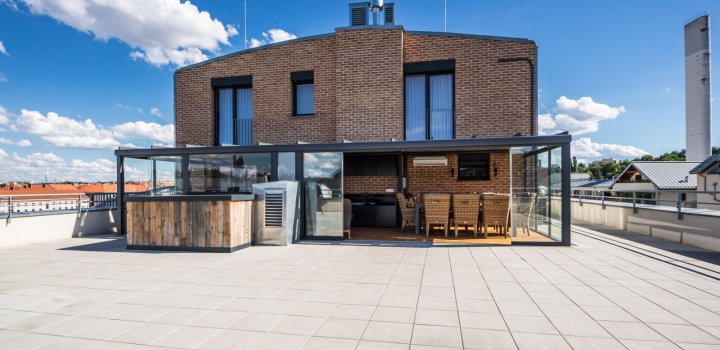 Luxusní byt na prodej - Praha 6 - 426m, Praha 6
Show property
From Prague to New York in a second
Thanks to the festival on the Náplavka embankment, you could try the Pastrami sandwich, for example, popular mostly in New York. Chefs weren't the only ones arriving in Prague though, there were artists too, showing the best from the world's folklore.
If you didn't make it to this year's street food festival and are planning to go on a diet so that you can fit into your favorite pants again by fall - wait a little bit longer. A few food festivals that are worth visiting still await you in Prague before the end of the year.
September Prague in the name of food
After the first week of school, on Saturday, September 7 from 10 am, the Smíchov embankment will once again be shrouded in pleasant smell of food - Asian food this time. Aside from Asian classics from China and Thailand, Asia Food Fest will bring you meals from Vietnam and India too! Prepared for you will be fried spring rolls, spicy shrimp, various flavors of noodles or spicy soups. You can also look forward to tapioca pudding or pandan pancakes.
Four days later - on 9/11, the pedestrian zone Anděl will be transported to India, where more gastronomic pleasures will be waiting for you, such as the delicate palak paneer or shahi paneer. You can also have a try at putting on the traditional women's turban or saree.
On September 15, the sixth year of Street Food Festival will take place at club Cross in Holešovice, which will also offer rich cultural program aside from a wide array of street food.
In conclusion, even though summer will be over soon, there's no reason to be depressed. In our beautiful capital there will still be many options of visiting cultural events and we hope to meet you again at some of the aforementioned ones!
View photo gallery