Tereza Sabáčková has been creating under the Sali brand since 2001. The public knows her mainly thanks to wedding dresses and evening dresses. Her designs are often worn by Czech celebrities or seen at global beauty competitions. Whoever knows this sympathetic designer knows and will confirm that Tereza is, of course, very professional, but especially humane, nice and friendly. And now she is also in anticipation of his first child. After wrapping up the demanding wedding season, she made time for her interview with Luxury Prague Life.
Video
What about you and Prague fashion week, have you ever presented at it?
No, no, I tend to avoid these events a bit, maybe it's just my bad experience. I feel like those alternative spaces like the Kotva department store would not suit my dresses very well...it's too industrial, modern, fast. The clothes presented are usually not wearable, and I prefer wearable fashion, I like creating for people, for life. I do wedding dresses or evening dresses, which are for unusual events, but so that customers can wear them and feel beautiful, exceptional, without looking like from another planet.
I prefer those classic lines that highlight female curves, and I think there's not much of that at fashion week. And I also feel that people go there a little as a pose, which discourages me...they want to be terribly worldly at all costs, and sometimes it seems to me to be at the expense of individuality and uniqueness. I really prefer individual shows, which have much more depth and a story, emotions, and it's about the designer and his personality.
But on the other hand, a lot of people who go there buy something and wear it?
For me, I feel that a lot of people go to the shows because of the social occasion, just to be there. So they can put it on Instagram or Facebook, that they were at fashion week. This is certainly not bad, I just do not seek such events. When they go to an individual designer's show, they have a deeper impression, they are more interested in the designer and his/her work. Fashion week seems to me like a video clip, while the show is a feature film.
Luxusní vila na prodej Praha 6 - Hanspaulka, Praha 6
Show property
What about you and abroad? Have you never wanted to go to the London fashion week, for example?
I'm more oriented towards fabrics from the East. I love lace, handwork with stones, decorative applications, ornaments, so I'm more likely to be inspired by those influences. I love various Lebanese Instagram pages with photos from weddings, social events, it's such a different direction and a different world.
Classical fashion weeks, at least as they appear to me in the media, offer daily fashion rather than evening gowns, where the goal is to stand out in a crowd, at work, or wherever. Rather than street wear, I do gowns or cocktail dresses for balls, weddings, special occasions...for chateaus and red carpets, and there's not a place for that at fashion week, nor is it the goal.
I think I'm more along the lines of One Thousand and One Nights. I make clothes that turn my customers into princesses and goddesses, at any age, without model measurements, and they feel that way. That's my goal, which, in turn, is not along the lines of fashion week.
Your recent show in Žofín is very acclaimed, people are talking about a lot. I was there and I was thrilled.
It was my dream, I've been preparing it for about three years. Of course I have a sense of satisfaction that all the energy and everything leading up to this for years has returned multiple times. I think everyone who was there talked about the real emotions and experiences. Vašek Noid Bárta sang and recorded accompanying videos. He works beautifully with emotions both musically and visually. That made it whole. There were a lot of people there I've been happy to work with for a long time, who my friends, loved ones, so it was not just a pose, but more about relationships that are real, and I think it was reflected in the atmosphere of the whole evening. I am very grateful for that.
Where do you get inspiration? Do the customers in leave it in your hands or do they tell you what to do?
It's different every time, depending on the customer. I have to say that in the end, the customer is more happy to leave me more room because I always try to do the best for her. If she is not quite as experienced in how the fabric or the cut behaves, she just sees some final picture on the model and wants it strictly like that for herself, we both suffer. The result is never one hundred percent, what it could be if she left – fortunately most of the time they do – more space for me interfere with it and regulate it at least a little. The best option, both in the process and the result, is when she is more open to trusting me than having a particular idea and sticking to it.
I don't just make wedding dresses, but also designs for balls or rare occasions like graduation. Also, sometimes the whole family dresses up for weddings, so the clientele is not only the bride, but also the mother, the bridesmaids and so on, and they keep coming back. Sometimes they are family projects, I enjoy that very much.
What is a good time reserve that is needed to make a wedding dress without stress?
Unfortunately, the deadlines are sometimes quite sad. There are brides that really come practically three weeks before the wedding. Sometimes it's doable, and sometimes you really have to refuse, because the wedding season is really packed.
To keep it calm, wedding dates are from June to August, so when the brides start coming in March, it's okay. We look at fabrics for a couple of months before their supply is complete, we fine-tune the cut, and then sew, fit and decorate. Some brides even lose weight, so sometimes the time reserve for adjustments before the handover comes in handy.
In the case of pregnant brides, we postpone sewing to the "last minute", it does not make much sense to do it half a year in advance. But most of my brides come to me with babies rather than pregnant.
How much weight do they lose and, above all, I am interested in how? (laughter)
Some brides lose weight thanks to the stress and folly their wedding preparations sometimes comprise. And then there are brides who lose weight for their wedding dress and dream day. A wedding is a financially more expensive diet, but I must say that it is often very effective. (laughter)
In the case of one bride we recently had to adjust 8 cm at the waist, almost two sizes, one week before the wedding. She visited my friend who does Body Fit Wraps a couple of times, and the method of wrapping really works very effectively and quickly on some people. So I was not very grateful to my friend, but the bride was really happy. (laughter)
You are also pregnant now, have you thought about how you will handle things during motherhood?
Of course I have thought about it, I think a lot of things cannot be planned because each baby is different. I will see how I will handle it, too. But I certainly have the idea that I would like to continue with the next wedding season and not leave out the wedding dresses. There is a high demand for the next wedding season. Luckily, I have a lot of people around me who will support me and I plan on making use of that. I believe that with a drop of luck, where there is a will there is also a way.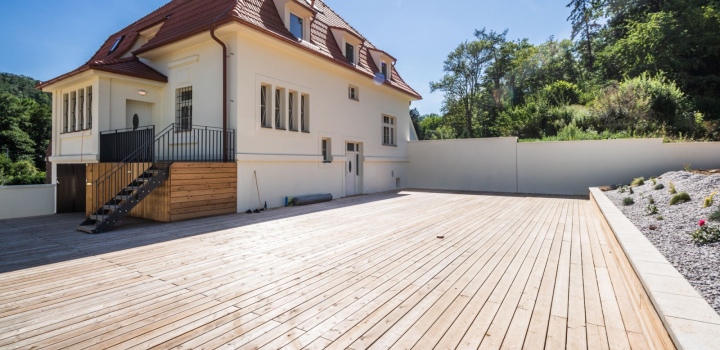 Luxusní vila na prodej v Šáreckém údolí, Praha 6
Show property
Where's your ring? A baby on the way and no wedding?
(laughs) You know how it is – the shoemaker's children...For a long time I devoted myself only to work, I've waited for a baby. And it is now my greatest joy. I have more than enough weddings thanks to my job.
Wait! You do not want to get married?
I certainly do not have anything against getting married. When you are with the right partner, marriage is a nice tradition, but I have already experienced one wedding. It was beautiful, so now I have other priorities...
Do you have a sketch of your other wedding dress somewhere?
I don't, but fortunately, regarding wedding dresses, I still have enough ideas, so that would probably not be a problem, but I feel quite exhausted from weddings this season, so I do not mind taking a little break from them. (laughter)
When you create a wedding dress for a bride, does it ever happen that you become friends?
My customers often become my friends, then they get married and we are already friends. I often create a nice relationship with brides....Wedding dresses are often ready only after six fittings, so we spend quite a lot of time together. When I'm working with lace, the fittings often take over an hour and a half, sometimes they faint, so it brings us closer together.
Why do they faint?
During long fittings, very often they unfortunately don't feel well, so they fall and faint. Every other bride will experience this during a fitting. I always warn them in advance to let me know immediately if they start to feel dizzy or nauseous. They stand here for a long time, and we really fit the lace on the body so it's where it's exactly where it should be, so it narrows and highlights what it should, so it's really an hour and a half of fitting sometimes. Therefore, quite often, the bride doesn't feel well, especially if she is hungry or doesn't drink enough and is standing on heels.
I try not to get them into a state where they faint, so that's why I warn them in time, and give them instructions during their first or second fitting. I have a fan, a window or a door open, biscuits and water as first aid, they need to sit down or even put their feet on the table, and the dizziness soon goes away.
That's a really long time. You need to be in a really good physical condition, too...
For me as the person who is working on the customer it is not such a problem. I'm always moving. But the bride only stands, looks in the mirror at most, so she suddenly feels sick. The closer the wedding is, the more worries there are, stress, the thinner she is, it's the summer, thirty or more degrees, so it all comes together, but it's all good, we're already rehearsed.
The fittings often bring us together. When the dresses are finished, the brides often say during handover, "Jesus, I won't be coming here anymore, that's weird, what will I do with my free time? '(Laughter) So it is a fact that relationships are created, some deeper, some just become a nice memory.
Do they keep the dress or do you take it back and offer them for fashion shows? Or do you sell it?
We have different procedures, someone really wants to keep it and wants it in a showcase or somewhere on a pedestal, for their daughters. But sometimes even if the dresses are custom made and were used once for a wedding, they are sophisticated and it would be a shame if they didn't appear anywhere else, so we offer them for rent. I deal with the brides individually.
How much does a wedding dress from you cost?
It really differs, because it depends on the degree of decoration, and what kind of material is used, how many layers there are, how much is used, all that has a major impact. The meter of fabric can cost three hundred or five thousand. The minimum is 25 thousand, the standard is 30-40 thousand. If someone really wants something very pretty, then of course the price can climb even higher.
We recently made a dress for Nikol Moravcová. The lace imported from the Emirates was cut out and sewn directly onto the dress manually. Such dresses are really expensive. When I counted it, it was more than fifty hours of handmade decorating, so the price could be 80 to 90 thousand. It's about decorating and manual work.
You previously worked with the Czech Miss. Are you not doing that anymore?
Now I work more with Taťána Makarenko, I collaborate with her and dress the finalists in the contest, she has quite a lot of them. One wants them to be the most beautiful girls in the world, so it's very motivating.
You also did underwater photography...
A project called Galatea was born, a beautiful story from the underwater world. The author of the book, Marta Cottora, contacted photographer Lucie Drlíková and they decided to make a photo to illustrate the story. That's how I got into it. When they saw the dress, they said "great, we want it there." We photographed the dress for Galatea and we continue to cooperate with Lucie Drlíková, because I like light dresses with the flowing materials, silk and lace, and all that floats beautifully in the water.
Do they not get ruined?
No, it's one of the safest forms of photography! Sometimes it is far more dangerous when someone like Nikol Moravcová borrows a dress. (laughs) Although it seems to be a demanding for the dress underwater, I must say that there was no problem. Photos from the exteriors, in nature or in dirty factories are far more dangerous.
What is the difference between famous customers and "commoners from the street"?
I do not see any difference. There are both famous and unknown customers who sometimes feel they understand everything, can tell you how to do it and know best. Then there are those that give space, so I feel it's not about whether they are famous. Even among regular customers, there are a few more demanding customers, but it's not because of their status, but rather because of their nature.
Sometimes I'm surprised when these "street customers", as you call them, say, "Wow, you make dresses for normal people, too?" I say we're all normal. They are fascinated by the care I pay to the "normal customer", the same as I do to the wedding dress for Nikol Moravcová.
It does not really matter. I always want to make the customer feel good and it doesn't matter whether it will be seen on the red carpet or just "somewhere" at a wedding. For a bride, it will be the most important moment in her life, perhaps more important than on the red carpet.
Are you planning anything else we should know about before you go on maternity leave?
I think the ending wedding season was really the pinnacle for me. I had the huge task of finishing all the wedding dresses. Now, I would also like to rest a bit so that everything around the pregnancy is all right. So far everything has revolved around work and the brides. I look forward to at least gathering new ideas in the spring, when I would like to prepare a nice show again for the new wedding season.
Thank you very much for the interview, good luck on maternity leave.
Fast confession:
Which dress are you most proud of?
The winning dress of 2010 and then every dress in which the bride feels like a princess.
How would you summarize the Prague fashion week in one sentence?
I look for some other types of shows, such as those with a story, mostly of individual designers. So for me, it's not exactly my cup of tea.
Your favorite material to create from?
Lace, I wanted to get it tattooed, too.
What celebrity would you like to dress once?
Meryl Streep.
Where is the farthest you designs have been?
Japan, Las Vegas – I don't know which one is farther. (laughter)
Who's your favorite fashion designer?
Alexander McQueen, who unfortunately is no longer among the living, but his followers are continuing along the same line, so this brand.
What mistakes do Czech politicians make in fashion?
The problem is not fashion, but generally speech and style.
What should fashion collections for kids look like?
Playful. Not necessarily colorful, but playful.
How does your pregnancy affect your work?
Due to the fairly successful wedding season and the brides' amazing reactions, I believe that in a positive way.
You favorite shoe brand?
I do not have one. It depends on the clothes.
AnchorYour tip for losing weight for a wedding dress?
There is a functional wrap, my friend does it, it's called body wrap and there are is so much weight loss that I tell bride three weeks before the wedding not to go there anymore, because adjusting a dress by eight centimeters a week before the wedding is very demanding.
What do you think of Babiš in one sentence?
That he could not be a politician in another country.
What are you doing to save our planet?
Recycling waste, trying to avoid plastics.
What would you never forgive your best friend?
If she wasn't honest with me.
The interviewee asks the editor:
Who would you never want to interview?
Probably some Czech politician...(laughs)
View photo gallery