He is a top-class hockey trainer, she a night club dancer. The relationship, which was not fancied by his adult children nor the public, became a saucy morsel for the media at a time when Vladimír´s first wife passed away and he was facing a court battle because of a corruption scandal. In spite of everything they have been a married couple for almost two years now, moreover bringing up a one-year old daughter. All that despite the fact that only a few years ago now 55-year old Vladimír used to condemn relationships with a greater age difference. But he got to realise that one simply cannot help falling in love. The pressure which they had to endure ultimately strengthened their relationship. They also have a great support of Vladimír´s parents and his brother.
Video
When you look back at the last year, what do you see?
Vladimír: I am not one of those people who endlessly analyse the past. I deal with what is now or what will be tomorrow. What will be in ten years' time is in the stars and it is not worthwhile to lose time with it. This is why I don´t even make resolutions. But I wish mainly good health to everyone in the new year. All the things that are to happen will happen anyway, for some it will work out a little better, for some a little worse. But good health is the most important thing.
Marie: I absolutely agree.
In the summer it will be two years since you got married. It is said that a wedding spoils the relationship. How about you?
Marie: It is true that we did have a crisis last year. But I think that every couple has some crisis and it is certainly not because they got married. Our wedding was beautiful, I love to remember it, but I certainly would not blame any problems on it.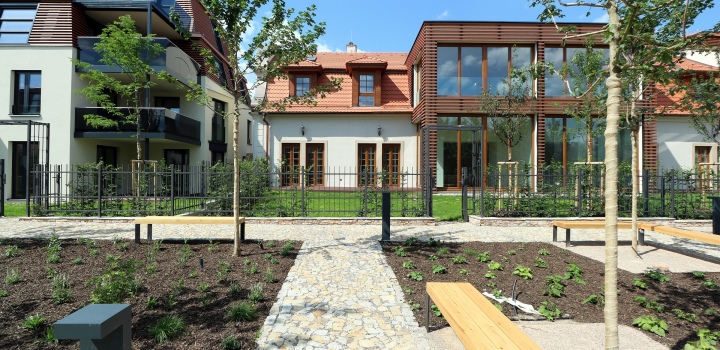 Luxusní byt na prodej Praha 8 - 113m, Praha 8
Show property
Many people nowadays just live together, even when they have children. What is your view on it?
Vladimír: We have both agreed that for two people who are considering having a family a wedding just seals the relationship. I am not in favour of just coexisting in one household. I am glad that we have a common name, and I cannot imagine that my daughter would have a different name than her mummy.
Marie: I agree. Although I believe that some couples can live happily even without the certificate.
Vladimír: It is about how those two people feel about it. We wanted to get married and we wanted to have a family and so we did it.
Vladimír, you look like a tough guy, but it seems that you can also be romantic. Can you show your feelings or let something play at your heartstrings?
Vladimír: I must say that I find this to be quite complicated. Not that I wouldn´t have any before, but since I´ve been living with Marie, I certainly express them more than before. It is an interesting fact even for me, but that´s the way it is. Considering how old I am, I myself am wondering about it. But in some respects, it also applies that you cannot teach an old dog new tricks. Fortunately, I think that in our relationship we both want the other to stay the same.
I there something that you tolerated at the beginning of the relationship better, and now, after some time, you are starting to mind it?
Marie: Vladimír is that kind of man that his character is obvious straight away. I think that there is nothing that he would be hiding. He is still the same as when I met him. I was rather surprised that the marriage fell into its grooves as quickly as that. I am romantic body and soul and perhaps I envisaged those nicer moments to last a bit longer. I liked it when we were getting to know each other, how Vladimír was enthusiastic, but now it is just a kind of normal life.
So what does ´normal life´ with a great figure of Czech ice hockey look like?
Marie: Completely normal. I am on maternity leave and Vláďa goes every day to work. He comes home from the stadium for lunch, I cook … Sometimes we go together for a walk and sometimes he returns to work. Evenings we spend together also classically, like most married couples, but as regards the TV we argue, because Vláďa is really sports crazy, so he wants to watch sport, which I am not interested in so often. So, we had to get two televisions. Sometimes he gives way, we watch together what I choose.
Vladimír: I am a normal guy who needs a steady home and peace. So, the household and our daughter are looked after by my wife. But it is not easy, she takes care of everything herself. Her parents are in Havířov and my parents are 76 years old, so we go there more or less just for a visit. I'm take care of the family financially. But when it is needed, I don´t mind to take a hoover or wash the dishes. You know, I am a man who needs to do something all the time. I can't lie or sit around for too long. Even when we are watching a film, I leave fifty times, even if I were to just take a walk around the apartment. I am hyperactive and Marie had to get used to it, it took a while.
Last year the media published a report that Marie moved away. Is it true? And what was behind it?
Marie: It is true, and it was a problem on my part. I have always been very sensitive and after the childbirth it was even more so. Women are not capable of thinking very rationally; however, Vladimír had a lot of work and I suddenly felt inferior. I thought that if I leave and we stay apart for a while, it will be as good as at the beginning. I was hoping that Vladimír would realise that it is not all just about ice hockey, but also about the family and I wanted to see whether he would miss me. Today I think that I haven´t gone very well about it at all.
But there was no one else, as was then also published. The worst of all was the tabloid speculation that the little one is not his. Dear God! After all, the child is a copy of him, she only has my eyes and hair. Nobody seems to have though that I have been colouring my hair since I was fourteen. Vladimír´s children from the first marriage are also blond with blue eyes and it could also be said that they are not his. While they look like their mother.
Vladimír: Although my wife took this step we have been in contact on daily basis. I couldn't be without our daughter and I actually found out, that we cannot even be without each other. So, in fact there was not a single day that we wouldn´t see each other.
You both look very hot-blooded. When you are arguing, is it more like "Italy", or rather a silent war?
Vladimír: We are both strong-headed. We have very similar natures and actually are learning to get on with each other. But I must confess that my wife makes more compromises. I am more marked by ice hockey and even when it is not what it used to be, one has been formed by it. Ice hockey makes me flare up.
Marie: I have also learned to be calmer, too.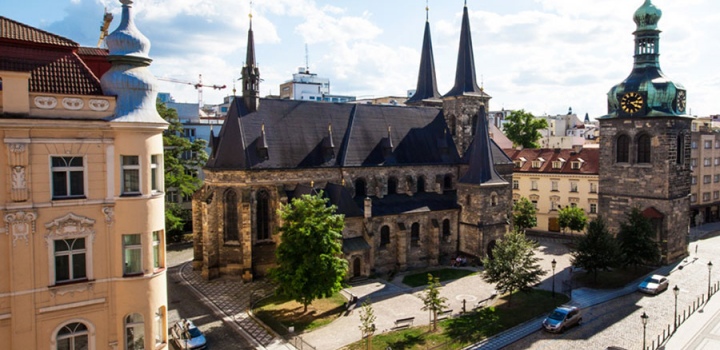 Luxusní činžovní dům na pronájem - Praha 1, Praha 1
Show property
Do you think that your relationship will be properly tested by your child?
Vladimír: Definitely. Our daughter changed everything, our whole lives. When there are just the two people, they are just for themselves. Now everything is subordinated to the child. Perhaps I will spoil her more than if I were thirty. I certainly perceive fatherhood at a later age differently.
Marie, you are a first-time mother. And how did parenthood change your life?
Marie: I will cry now! For me it is the most beautiful thing that ever happened to me. I would like to be the best mummy, if only because my own childhood was not the very best. And we are incredibly lucky that we have a healthy, smiling and satisfied child. She is a hugely positive little person and I think that by that, too, she joins us together. And I have finally something to live for.
Will you tell us what exactly did you go through?
Marie: No, because I am pleased that it is behind me. A lot of things I have not forgotten but forgave. Life goes on.
Could you tell us about your roots? Are you Roma, as people often think?
Marie: I´ve already heard this many times before. I am not Roma, I was originally blond, and I have blue eyes. But I was bullied in the first half of the elementary school anyway. But it was precisely because of the conditions in which I was growing up, and colour of my complexion definitely didn´t play any role. Although I have not received from my parents the support and love as I would have wished, I have a great grandmother and grandfather. And thanks to them I am what I am. I cannot imagine that they won´t be here one day...
You have Vladimír, he will certainly support you.
Marie: It is true that when I met him, in addition to a boyfriend he also was like a father figure to me.
Perhaps that is how your age difference would be explained by experts, too. And Vladimír, is such a relationship more complex in anything?
Vladimír: It is a great difference in age, but I do not know myself how to explain it. I myself have always absolutely condemned that in other couples. I thought that those people cannot understand each other. When I trained with hockey players, mostly young guys, I have seen their way of thinking, which was indeed elsewhere than mine. Which is normal. But that I would find a girl of their age, I haven´t dreamed of.
Then I met Maruška and did not understand how is it possible that she is not like her peers. We got on very well. And then there is another thing that still do not understand. We knew each other for a while and I felt as if we have been together for twenty years. That seemed unbelievable to me.
Have you seen that as a sign of true love?
Vladimír: It certainly was a thing which really shook me. It is the so-called "Never say never"!
How did you deal with the fact that the public and even your family, didn´t accept your relationship?
Vladimír: This obviously wasn´t simple. I told my wife that when it comes out to prepare for a storm, but it seemed to me that she still didn´t know what I was talking about. Moreover, the journalists kept pulling out her past of a night club dancer. I have of course known everything; I knew from the beginning whom I´m living with, so I was not interested. And I don´t now.
Marie: I have a completely clean conscience. But I cannot explain to people that while a dancer keeps men company, she doesn´t finish up in their bed. Many times, for example, an older man came who was widowed and I simply wanted to talk. People have a distorted picture. Yes, I showed my body, but that is where it ended. It was just work. Of course, I also had my own private life and it was no different from the life of a waitresses or a nurse. I only earned more money. I wanted to have a better life, better than in my childhood. I know that it is perhaps not quite the best occupation, but as a confectioner in Chomutov I wouldn´t make enough. It´s an ill wind that blow nobody any good. Thanks to what the media published I have at least recognised my true friends.
Do you have any idea of what you would want to do in future? Perhaps not dancing...
Marie: No, certainly not. Vladimír as well as our daughter have changed my life and nothing from the past can be turned back. I can imagine that sometime in the future I would have a small room, where women would go for beauty treatments and relaxation. A small beauty salon.
Vladimír: I certainly don´t require that Marie would work while our daughter is small. Of course, these are difficult times, people chase money… but it seems to me that they stopped spending time with their children. Parents are responsible for how they will prepare their children for life and how they will bring them up.
Vladimír, can you imagine that you would finish up with ice hockey completely?
Vladimír: Truthfully? I´ve been doing hockey since I´ve been five years old and it is almost always in the first place for me. The family is something else, you cannot put it on balance scales with ice hockey. I am doing what I enjoy, and I´ll say this quite clearly: I´ll train as long as I can.
For me it really is a drug, I can´t do without ice hockey. I come home and immediately I switch on television with hockey. My wife tells me: "You just came from hockey and you are again watching it..." I watch about four matches every day. Hockey is my second family. I wish all people could do what they enjoy and what fulfils them. Few people are looking forward their work. But you also have to make sacrifices and have a family, which will understand. Without it it´s not possible.
Marie: I like ice hockey and I am sorry if sometimes someone accuses me that I don´t. But sometimes I want to have a man at home who is capable of tearing himself away from his work for a while, putting all the worries and duties behind him.
Vladimír: Sometimes it´s possible, sometimes it isn´t.
What works for you when you have a bad mood?
Vladimír: I think that my wife already understands. Let me be. In fact, I then suddenly have a good mood again. Like a typical Gemini I have two faces. Inside one second my mood changes from good to a bad one, and vice versa.
Marie: With me when I have a bad mood, simply a smile or a kiss helps. It is simpler for my husband.
Vladimír: The wife is all about love. And she drew me into it a bit, too. It is obvious, it is always the case, when two people live together, they influence and form each other.
Your son from your first marriage makes you proud as far as sport is concerned. What sport would you recommend to your daughter? Perhaps not hockey...
Vladimír: I am not a supporter of female hockey, it would prohibit it. But we are sure to lead her to sport.
Thank you very much for an honest interview and I wish you all the best.
Fast confession:
Prague or Chomutov?
Both: Prague.
A favourite dish of your partner?
Both: Sushi.
Václav Havel or Miloš Zeman?
Both: Havel.
What does luxury mean to you?
Marie: Luxury apartment.
Vladimír: The apartment, cars.
Why did you argue the last time?
Marie: Something silly.
Vladimír: Something like that.
The best character feature of your partner?
Marie: He is good and generous.
Vladimír: The heart.
What do you think is most sexy about him/her?
Marie: His smile.
Vladimír: The bottom.
What did you want to become when you were children?
Marie: A singer.
Vladimír: Hockey player.
If you had a last wish to make, what would it be?
Marie: To die together.
Vladimír: Something like that.
What is the most valuable advice you would give your child?
Vladimír: To be honest.
Marie: To have courage.
What can you not live without?
Vladimír: Without my family, without hockey.
Marie: Without my family, without chocolate.
Where and when did you have your first date?
Both: Červený Hrádek.
Without what you cannot imagine your day?
Marie: Without our daughter, her smile.
Vladimír: Exactly so.
What is the biggest sin?
Marie: Cheating.
Vladimír: A mean trick.
Interviewee asks the editor:
How are you?
Very well, thank you.
View photo gallery