He himself claims that he cannot remain in a certain spot for too long and has to keep moving continously. Maybe that's how Jiří Kalfař earned his own fashion show at the prestigious New York Fashion Week. You may have already read about his massive success, but the world of fashion isn't the only field where this talented designer scored. His former love was ballet. Can we expect ballet-inspired elements in some of his future collections?
Video
You can take pride in having the title of "First Czech designer that set foot on the runway of New York Fashion Week". What does it feel like?
When I think back to it and realize that it really happened and that I made it, it's a nice feeling, a kind of satisfaction. But in general I think that I am still not fully aware that it happened. With getting a new collection ready and a new fashion week and other events that we've got, I'm all over the place. Maybe once I look back in ten or so years, at what I've achieved...
Can we expect you at NYFW again, then?
It's not confirmed yet. We have plans in Europe, we're doing Monaco in May, Monte Carlo. Cannes Film festival too, of course. I'm also planning to go to the mountains, if I can make it while there's still snow (laugh). And then there's the new season starting in August. So we'll see.
What would you say is the secret to your success?
I am the kind of person that can't stay in one place for too long. For me personally it's important to keep heading somewhere, pushing my boundaries. Where success lies I honestly can not assess.
What were you feeling when you stood on the runway in New York?
Preparations for the show were difficult and meant about four hours of sleep per day for me. Right before the show we were still changing the music at two in the morning. An hour before the show I was waiting at FedEx where they didn't want to hand over the shoes, because those had been changed like two hours prior. Until the moment of the show - and that includes the show itself - it was a whirlwind. Only once the show was over, when I came backstage, it all dawned on me. I literally broke down and cried in the corner.
Did NYFW open new doors for you?
I think so, for sure. First of all, it really is the satisfaction with what I do. Second of all, it's prestige. Once you make it to someplace like New York Fashion Week, people look at you differently. The doors open for you much more easily. You still have to knock in some way, but people will open the door for you. It isn't like the receptionist telling you, "Come back in a month or something". Does that make sense? It was suposed to be an anecdote (laugh).
It makes sense, it's good! Pavlína Pořízková and Alina Baiková often walk in your shows. How did they earn your favor?
Alina walked in my first show, when I was still doing shows in Kiev.
It happened when we met at a Cafeteria for a glass of wine a couple hours before a show. I told her that I was doing a show, and she came to have a look at the collection. She told that she'll walk in it for me, and since then she's walked in all my shows save one, which I'm very grateful for.
Pavlína walked in my second show. At one point she closed a show in London, this time in New York she opened. Pavlína is a legend in the business and her role in it is undeniable. I really appreciate that she'd walk in my shows, that we became friends and that she sees some talent in me. I don't think they had to earn my favor, not at all. On the contrary, I try my best so that they don't have to regret lending their name to me.
Linda Vojtová also walked in one of your shows. How did this collaboration come to be?
Thanks to Instagram. We didn't know each other personally, but knew about one another. I wanted the show to have a bit of a Czech mark, that's why I chose Preciosa and Tonak. So I wrote to Linda, because I know that she lives in New York and I really like her. I asked her to support me. And she went for it.
What's up with your work in the Czech Republic right now, actually?
I kinda put stuff out, I live here... I'm a little bit withdrawn. I'll admit, in a way I'm trying to ignore the fashion world and show business a little bit - and just live my happy little life here, where I walk my dog, go on cabin trips and move between my studio and my home. That's enough for me here, it's like my retreat. I don't even have Czech clients and keep most of my business abroad.
Don't Czech clients contact you after NYFW? Haven't you felt any change?
Not when it comes to sales (laugh). The feedback and attention from the Czech media was much bigger than I'd expected, and I was pleasantly surprised. I'm glad it reached even people who aren't in the fashion industry. Everything needs time though. I don't believe that you can just do one show, and suddenly there will be a queue here and you'll get to decide who can come in and who can't.
Don't you find it amusing that your talent gets more appreciation abroad than in your home country?
I don't find it amusing, but I do think that's what the Czech nature's like. It's like that with everything. It's not that people here don't appreciate me, it's more like some sort of distrust which we have inside. We rarely give or take that opportunity.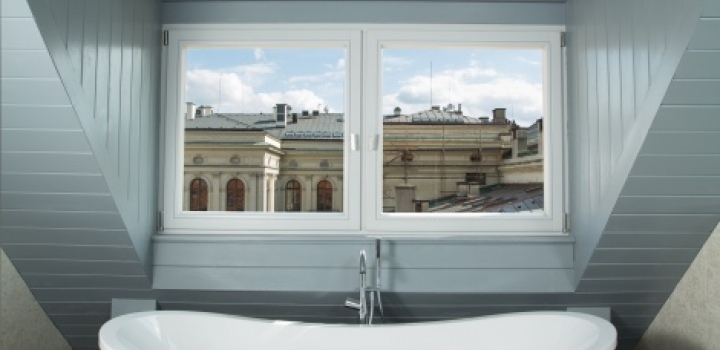 Art Rezidence U Divadla Byt L'Arte de Vivre,
Show property
At one point you were rejected from the Mercedes-Benz Prague Fashion Week. How do you look back on that?
Every cloud has a silver lining. I'm not the kind of person who holds grudges or anything of the like. It helped me become more aggressive. And maybe if I'd done shows here, I wouldn't have had the courage to leave the country, because I'd have grown lazy here.
What's your advice to young designers who are just starting out?
To persist, take their time and have trust in what they do. Not to try and be like somebody else, to be themselves. Because sooner or later somebody will recognize their brand, their hard work and diligence. So they'd better be ready!
Would you recommend they apply for Merecedes-Benz Prague Fashion Week, or just go abroad right away?
I'd definitely recommend that. At least they'll learn how it works backstage. And how preparations for a show actually work. That's actually the only feedback you get from the outside world. You spend half a year making something and get no feedback at all. And doing any kind of fashion week is your only clash with reality. Aside from sales that is, though that's a bit of a harder clash with reality (laugh).
You yourself have started out in a completely different field – ballet. How do you remember this period of time?
Pleasantly. I love ballet and I love theater. I admire no one more than I admire dancers. When I look at it as an artist and a designer in a certain way, I create something - and the 'something' represents me in that fashion show. But a dancer creates the 'something' on their own person. Their body is their instrument, that they have to continuously refine and force into poses or training that they aren't used to. They have to keep overcoming their limits. And the even bigger paradox is that dancers are often insecure about their own bodies, when that's literally what they show off to the world. It requires a lot of mental stability.
What was it like in the beginning? Did you live in a dormitory back then?
I only started doing ballet when I was eleven years old at a conservatory, before that I did some after school activities - drama club and disco dance. Up to this day I'm in awe that I got accepted into a conservatory, because I knew near to nothing about ballet. I was tiny and rather chubby, but all the more driven, I'd say.
Who are (or were) the best male and female ballet dancers in your opinion?
I think the best male dancer in history was Rudolf Nureyev, and Vaslav Nijinsky, both of them changed and elevated ballet into new heights. Among women that'd then be Sylvie Guillem, probably. Among active dancers I love Alicia Amatriain and Daniela Camargo.
What do you think activities in Czech ballet and the Czech fashion industry have in common?
Considering that those are two completely different art forms, I think that question can not be answered. Maybe I'm not even the right person for this question, because both with ballet and with fashion I have mostly been active abroad.
Does your ballet experience inspire you when creating fashion?
Not really my ballet experience as much as theatre. Somebody told me once that my work is rather costume-like. Not just in theatre, but in daily life too, we all put on costumes in some way. Whether we want to bring attention to ourselves, look good, fit in or, on the contrary, play a certain role. And I perhaps exaggerate that all the more because I was engaged in theatre.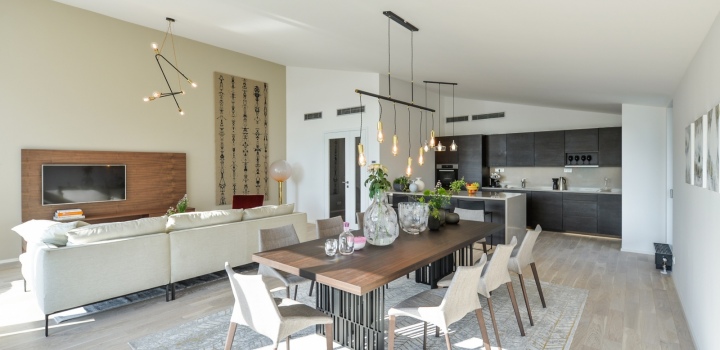 Luxusní byt se zahradou Praha 6 - 151m, Praha 6
Show property
Haven't you thought about incorporating some elements of ballet and theatre into a show or a collection?
No. I think that it has to be done so incredibly well, in order not to look kitschy... very few people can pull that off. If anything, you need a proper stage, and at the moment we only show clothes.
So it isn't completely out of the question for the future?
It is not out of the question. If I'm able to build a stage one day like Chanel does four times a year, definitely. There it'd be worth it. Until then, on a white runway with a white background, probably not.
Would you like to design clothes for ballet, when it is so dear to you?
Of course. I'd immensely enjoy designing costumes for ballet, be it for the reintroduction of classics, like Swan Lake or Giselle, or to collaborate on a new production of a contemporary ballet. I love Wayne McGregor, whose choreographies and productions I'm in love with.
What would your life have looked like if you'd kept doing ballet?
I think I'd be happy. A different kind of happy, but happy.
As a part of your profession you travel a lot. Is this activity a passion of yours, or has it become a boring necessity over the years?
More of a necessity, but I don't travel as often as people think. Or rather, what's 'often' to you?
Three times a month?
Yeah, no. You see, I don't travel that much. It also depends where. I don't consider going to London or Milano travel. If somebody lives in Bratislava and works in Prague, that's way more of a travel for me and takes a lot more time than going door to door in London for example. But I enjoy every day and it doesn't matter whether I'm traveling or not. Maybe it's become just a necessity for me, but I still look forward to seeing the people I'm going to meet.
Are you planning to settle in the Czech Republic, or are foreign countries more alluring to you?
I plan to stay in the Czech Republic. Like five years ago I was planning to be a Czech designer doing shows in the Czech Republic for Czech clientele anyway. So this is how I plan.
I'll ask it differently. Is moving out of the question, or isn't?
Nothing is out of the question. As I said, I plan to stay in the Czech Republic, but Europe is so terribly small that you can get pretty much anywhere in two hours. I consider myself a citizen of Europe, not the Czech Republic or Prague.
So New York is not your final destination?
No, I'm a European. I love New York more than anything, but I'd worry if something happened to my family let's say. It's a bit too far for my taste.
I wish you a lot of success and hope that we'll meet again, after you've had yet another successful fashion show!
Fast confession:
Which three traits must a designer have to get a show at New York Fashion Week?
Hard work, ambition and talent.
Alina Baiková, or Pavlína Pořízková?
Both, it's impossible to pick.
When was the last time you cried and why?
I cry all the time. No, like, for real. I watch a movie, I read a Facebook status and I shed tears. I'm a crybaby.
How do you like to relax?
Gardening, walking my dog, cabin, water, skiing.
Which three pieces should every woman have in her closet?
Little black dress, white T-shirt, quality stiletto heels.
Which ballet would you like to star in if you still did ballet?
Giselle.
Fanny packs as a fashion accessory, yes or no?
Yes.
What does 'luxury' mean to you?
Luxury is... having a clear conscience.
Would you say your career is more luck or hard work?
I'd say hard work, most people would say luck.
For which city out of the ones you've lived in do you have a particular soft spot?
In an ideal world I'd be waking up in Paris, eating lunch in Rome and having dinner in New York.
What do you love most about your life?
Freedom.
What would you put an end to in fashion, if you could?
What I'd put an end to? Fashion critics.
What would have to happen to make you leave the fashion industry behind?
I don't think it would have to be anything that radical.
What do you spend the most money on?
Wine.
Question by the interviewee to the editor:
What do you spend the most money on?
Food.
View photo gallery