An inventive step. The union of Bang & Olufsen with the designer Michal Anastassiades was a great decision.
The authors standing behind the luxurious speaker Beosound Edge are the world-renowned designer Michal Anastassiades and Danish luxurious audio brand Bang & Olufsen who transform the everyday ordinariness to a completely extraordinary aesthetic and musical experience. The collaboration with the designer, who has done products with leading manufacturers such as Flos, Herman Miller, Salvatori, Puiforcat, Lobmeyr, SCP and Svenskt Tenn, is simply unique!
Video
Design that will simply charm you
A nice and surprising peculiarity is the shape of the speaker. The circular shape of the Beosound Edge has its advantages. It can be placed either on the floor as a luxurious designer centrepiece, or mounted on the wall. It contains a polished aluminium body with a cover made of matt black fabric that is easily exchangeable.
What more can Beosound Edge pride itself on?
Definitely the 10" bass speaker with an innovative slim design and a long excursion, and on both sides of the speaker there are 4" midranges and ¾" tweeters.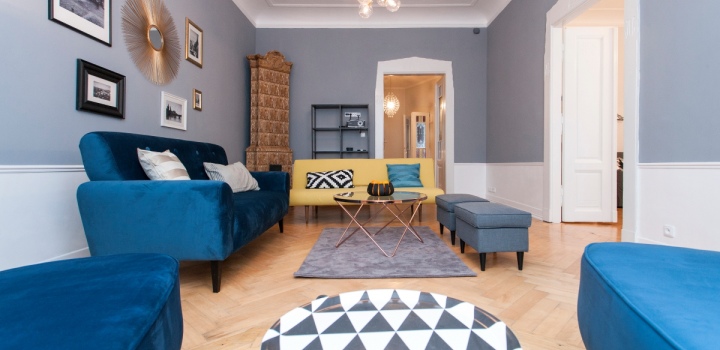 Luxusní byt na pronájem Nové Město - 117m, Praha 1
Show property
Modern technology
Exclusivity can also be found in the magic element: the brand has incorporated a physical touch interface into the aluminium frame by lasering microscopic holes which only light can shine through and which are invisible to the eye. The proximity sensors detect when you are approaching the speaker and discretely illuminate the touch sensitive aluminium interface.

If you are looking for more intense sound, just roll the speaker to one side, or turn the sound down by rolling it to the other side. Or even just a quick touch is enough to make playing with sound come alive!
An unprecedented masterpiece
"From a distance, it is monolithic, and at the same time it discreetly hides everything that proves its technological qualities. The sound performance is unforgettable, aims much higher than you would expect from a speaker of this size," says Bang & Olufsen Concept Manager Kresten Bjørn Krab-Bjerre.

The price of the Beosound Edge is set at 84 500 crowns. You can find the showroom with the most luxurious products at Dušní 10, Prague 1.
Bang & Olufsen: devotion bore fruit for the business
Bang & Olufsen is a global luxurious lifestyle luxury brand, founded in 1925 in the Danish town of Struer by Peter Bang and Svend Olufsen. Their devotion and vision are still the driving force and foundation of the whole company.
View photo gallery