History of the perfume and the lucky number 5
It was in 1921 when the French fashion designer Gabrielle Coco Chanel introduced her first perfume. She initially only sold her perfume as an exclusive accessory to customers who bought her clothing. She gave them small samples and waited patiently for women to spread the work among themselves. The fragrance itself was created by Ernest Beaux. Coco chose the fifth sample which Beaux presented to her and after this, she kept the number five as her lucky number: she always presented her collections on the fifth day of the fifth month
Chanel N°5: synonymous with the word perfume
This luxury perfume was chosen by women who did not want to smell like a flower (until that time, women usually wore simple "soli flora" scents) or of musk or indolic jasmine. This was essentially the perfect perfume for the woman who wore modern short skirts and listened to jazz which was fashionable at that time. For the woman of today, No. 5 is a symbol of old quality and timelessness. To this very day, it ranks among the best-selling perfumes in the world even though it takes some women a little time until they find their way to N°5.
The bottle of the famous Chanel N°5 perfume was designed with minimalist lines in such a way as to be reminiscent of a whisky carafe. The shape which was inspired by the Parisian Place Vendome No. 5 has become an icon of the twentieth century.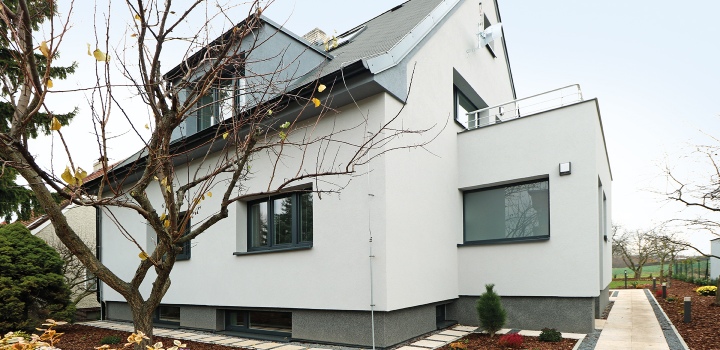 Luxusní dům na pronájem na Praze 9 - Čakovice, Praha 9
Show property
Which fragrances are hidden away in N°5
The head note contains Tunisian neroli, ylang-ylang and aldehydes. The heart note is made up of jasmine from Grasse and may rose absolute. The base note is made up of sandalwood, vetiver and vanilla. Aldehydes are the "spices" of the perfume, emphasising its floral ingredients and lending them a special crispiness. Ernest Beaux was the first person to start using these fragrance enhancers during production.
Coco Chanel's memories of childhood also had an impact on the composition of the perfume. Life in a convent orphanage was full of the smell of boiled sheets, wardrobes stuffed full of laundry with rosewood and floors scrubbed with rough tallow soap. She also drew inspiration from the heady scent of jasmine, lavender and roses coming in from the gardens. Maybe this is why it cannot be compared with any other perfume.
"A perfume is something which is invisible and yet an unforgettable fashion accessory. It announces a woman's entrance and reminds others of her when she has left." Coco Chanel.
Video
View photo gallery