Coco and Karl
Coco Chanel, the founder of the Chanel luxury fashion house, made the brand famous especially thanks to its renowned small black dress, classic tweed jackets and timeless designs. Karl Lagerfeld succeeded in giving new life to the Chanel brand in the eighties; his designs are based on traditional elements, and his work bears his typical elegant style.
Femininity above all
The autumn and winter 2016/2017 collection introduced countless luxurious models, and all of these include the characteristic elements of Chanel – emphasis on feminine silhouettes and especially a modern take on the classics, made for contemporary women. The collection emits femininity especially thanks to the use of frills, linenfold chiffon, rich tulle or quilled tweed.
The colors of autumn and the immortal black-and-white
The color palette includes ground tones, the delicate old-pink, and hues of prominent colors such as magenta, fuchsia and crimson. The black-and-white classic is of course also included, this time with special elements such as a creamy lace contrasting black varnished leather. Accessories include traditional layered pearl necklaces, camellia in the form of buttons or brooches and luxurious felt hats.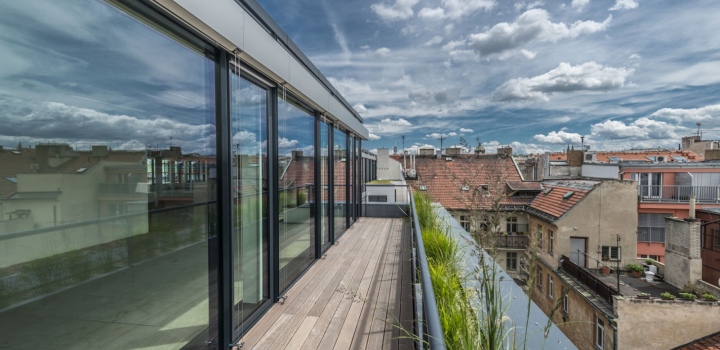 Kanceláře k pronájmu, Praha 1 - 387m2, Praha 1
Show property
The new Chanel N°5
The unforgettable Chanel N°5 perfume is the cherry on the top of all fashion pieces; its popularity remains as strong as ever. With it, Gabrielle Chanel created a symbol for luxurious simplicity and femininity in 1921 that is now more than just a perfume. In 2016 it's Olivier Polge's turn to capture the scent of this time, in the form of the new N°5 L'EAU. A new element of the Chanel collection is hence a modern and fresh embodiment of this everlasting scent. The face of the perfume is the charming Lily-Rose Depp.
Video
View photo gallery