I fell in love with films as a child.
It was my dream world where everything could become a reality... My favourites were not so much Disney fairy tales, as films from the days of old Hollywood and our famous Barrandov inter-war era. Let´s recall and remind ourselves of the most beautiful dresses of the film screen. As an added bonus you will find out that some pieces reliably score, despite their age! This is my TOP FIVE!  
Video
1. Grace Kelly - "To Catch a Thief!" (1955), dress Edith Head
One of my absolute favourite actresses is undoubtedly Grace Kelly. Her allure, Bambi-ish eyes and elegance has always fascinated me. One of the most beautiful and absolutely timeless dresses was worn by her in the movie "To Catch a Thief" shortly before becoming Princess of Monaco. The white gown with a perfectly-cut décolletage as if floated in the film above the Principality. Its creator was the legendary costume designer, who won many Oscars, Edith Head. I take my hat off to her!!!
2. Audrey Hepburn - "Sabrina" (1954), dress Givenchy
Legendary actress Audrey Hepburn also continues to be one of top everlasting fashion icons. And so it is quite understandable I cannot fail to mention her. I am most impressed by her dress by the Givenchy fashion house, which she showed off in the film "Sabrina". The simple corset and cascading skirt, revealing the ankles - just the very think for any woman who would like to turn into Cinderella running off at midnight.
3. Keira Knightley - "Atonement" (2007), dress J. Durran
The emerald-green silk evening gown from the film "Atonement" is exactly what you would like to have on come Friday evening. Elegance, refinement and above all exuding sexappeal when seeing the bare back. Love at first sight. Designer Jacqueline Durran should lead one of the fashion houses today, because this single dress easily outshines many which are seen at current fashion weeks!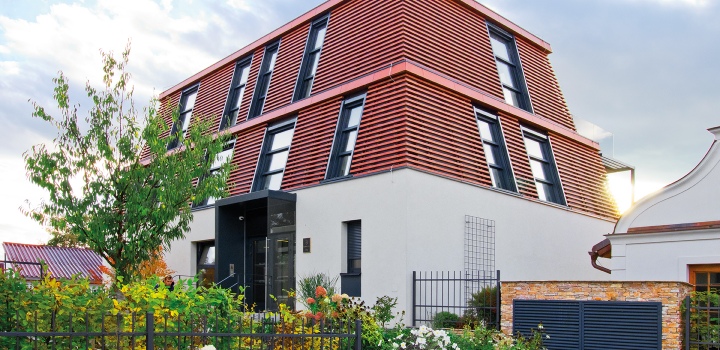 Penthouse Troja 309m, Praha 7
Show property
4. Adina Mandlová - "Kristián" (1939), dress Hana Podolská
An iconic Czech actress of the inter-war era, who often played spoiled, pampered femme fatales, Adina Mandlová certainly cannot be missed out of my list. Perhaps the most beautiful dress that she ever wore in any film is the one from the scene in the Orient bar in the film "Kristián". The dress was of silk satin and had been perfectly accessorised a fur boa, expensive jewellery and a hair band. In short, everything perfectly matching to the last detail!
Adina won a national prize for this film. And with sarcasm she said in public, that the prize should go to the seamstress, Mrs Podolská. She was the one who tailored all the models for the film.
5. Olga Schoberová - "The Vengeance of She" (1968), dress unknown
Perhaps the most beautiful Czech actress ever, Olga Schoberová, in the sixties completely captivated the silver screen world. As one of few she even got to British cinemas, where the film "The Vengeance of She" turned her into a world-wide SEXBOMB! It was thanks to the yellow dress with a gold snake belt and a very deep neckline... The whole of her glory in the sixties was crowned by a Playboy headline where she was described as the first girl from the Soviet Union. This simply cannot be forgotten!!!
In conclusion I regret to say that in the modern era of film-making I cannot recall a single iconic actress in a model that would be unforgettable. Thank goodness for treasures from the golden archive. So, until the next time!
View photo gallery