Hot seasonal tends
Even though summer is still struggling for supremacy and temperatures rise to a pleasant twenty degrees every now and then, everyone knows that autumn is inevitably upon us. We have browsed through the latest collections of world fashion designers in your stead and put together 5 autumn trends that should definitely not be missing in your closet.
1) Feathers in any shape or form
Preening like a peacock... That's a hobby you should definitely pick up this fall. How? Update your shoe rack with luxury "feathered" pumps in the style of Gimbattista Valli and your closet with a vivid Marco Jacobs mini dress or a warm Prabal Gurung coat full of vibrant rainbow colors.
Luxusní vila na prodej na Praze 6 - 590, Praha 6
Show property
2) Pelerine - divine elegance
Colder days call for proper garments. A pelerine, perfectly feminine and elegant, is the perfect choice. Divine Chanel offers a sweet pink model; if you prefer a luxury beige variant, the brands Chloé or Céline will deliver.
3) Flower motif
Just because the summer is over, you don't have to give up fresh and optimistic motifs such as flowers. Louis Vuitton, Prada, Richard Quinn and Marc Jacobs have all proven at world fashion weeks that flowers have a green light even on grey and rainy days. Say goodbye to the autumn grey and invite a little spring to your wardrobe!
4) Asymmetry - bare shoulders!
To Hell with symetry and sharp straight lines. The hit of the current season is asymmetry, which you can donne in the form of sexy mini dresses, evening gowns or chic overalls. Just look to the brands Carolina Herrera or Zimmermann for inspiration!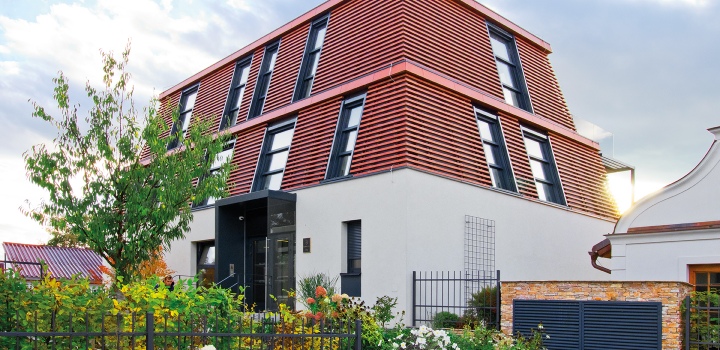 Penthouse Troja 309m, Praha 7
Show property
5) Skin on skin
Coats, trench coats, dresses or tops. It doesn't matter which variant you of leather you'll choose to wear. As world famous brands Alexander McQueen, Giambattista Valli or Valentino showed, it is a hit no matter what form it takes. If you are an animal lover, this trend may not please you, but you know what? Vegan leather isn't a taboo either. Off on a shopping spree!
View photo gallery