Rolex wristwatch Daytona which were lost for 30 years and once belonged to famous actor Paul Newman, became the most expensive watch sold at an auction. Anonymous buyer paid 17.8 million dollars for it in New York. This is almost 386 million CZK!
Video
Watch that have no competition
In the New York Phillips auction room, stainless steel watch became a rarity at a special selling auction named "Winning Icons - Legendary 20th Century Watch". In the collectors' world, the watch has no competition, and the cost of "paulnewman's" has been estimated at over $1 million (over 21 million CZK). The previous record belonged to Patek Philippe watch, which were sold for $11.1 million in the year 2016 (240 million CZK). After 12 minutes of bidding, the Newman's watch was eventually sold to a bidder on the phone who wanted to remain anonymous.  
Luxury watch as a gift from wife!
A beautiful piece of Rolex Cosmograph Daytona The watch was made in 1968, has a large white dial, three small black dials inside it, a red outer track and an engraving on the back: "Drive carefully me." Newman received it as a gift from his wife, actress Joanne Woodward, as a complement to his racing car passion. In 1969, they both starred in the movie Winning, and this film also became fateful for the actor. It started his successful racing career in automotive sport. Over the course of 15 years, he and his watch travelled the world together. He even used it to measure the car wheels at the Lime Rock Park racing circuit. It became Paul Newman's symbol because the actor didn't take it off even during shooting and filming promotional materials, magazines and documentaries.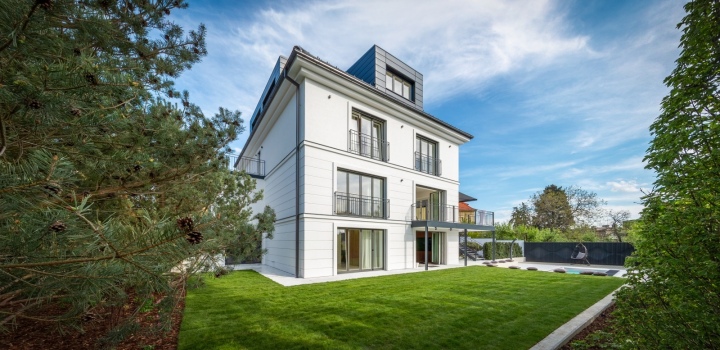 Luxusní vila na prodej Praha 6 - Hanspaulka, Praha 6
Show property
At the beginning of the eighties, Paul Newman's watch got lost.
It suddenly disappeared from his wrist, and the public didn't know where it was. In 1984, Newman gave it to James Cox, a classmate of his daughter Nell. And Cox has decided to sell the famous Rolex to fund the Nell Newman Foundation, founded by Nell after her father's death, which promotes a healthy environment, sustainable agriculture and education.  
View photo gallery