You will fall in love with the furniture from the brand Rolf Benz, just as we did. For the past 50 years it's been at the top of the industry in upholstered furniture. This is proven not only by its successes at furniture fairs (for example the recent Imm Kolín), but also by other prestigous awards that it has gained for its products. If you also desire modern interior equipment, then you came to the right place!
Video
We chose 3 luxury products, which every lover of design will appreciate.
1. VOLO: a settee designed for extreme comfort
The settee Rolf Benz VOLO reflects contemporary modern life style. The word 'volo' means 'I'm flying' in latin, and so you can probably imagine the lightness and design purity evident at first glance. The couch VOLO emanates a feeling of luxury, and offers maximum comfort, and is also adjustable into various positions.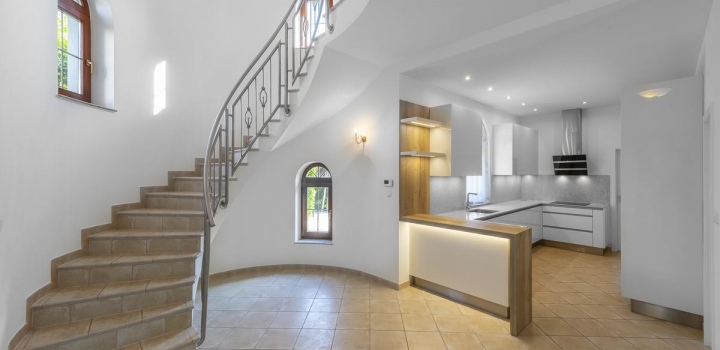 Luxusní rodinná vila na pronájem - Praha 6, Praha 6
Show property
'We wanted to design a comfortable and combinable couch. At the same time, we wanted it to be light and easily transportable' the designer of the settee Gunter Kleiner explains.
2. The award winning luxury chair Rolf Benz 629: aimed at flexibility
It was first presented at an exhibition of the brand last year in autumn. The unique chair Rolf Benz 629 is a combination of an armchair, chair and a bench, and it became the winner in the competition 'ICONIC AWARD 2019: Innovative Interior'. The famous designer, This Weber, is the creator of this design, and we applaud him for his original work!
3. Rolf Benz 927: A coffee table for the joy from modern designed
If you you're truly a fan of contemporary design, then you will like this slim, round coffee table! The solid wood legs bear the steel top, which has a distinctive hole pattern. It is available in two heights (43 cm and 50 cm), and five different colour shades. The diameter is 40 cm.
What do you think, aren't these fun designs?
View photo gallery
Klimentská 46 a 48
110 02 Praha
Česká repubika